During a muggy evening on Saturday, June 30, hundreds gathered around a stage at First Ward Park in uptown Charlotte while speakers addressed the crowd. On the fringes of the crowd, the scene looked more like a block party, with kids running through the splash pad as parents sat on cement blocks and looked on.
At the other end of the field from the stage, about 20 kids claimed their spots atop a circular climbing structure. At first glance, they looked like any other kids playing on a jungle gym, but a closer look showed they were holding signs.
A young black girl in a white dress held a stenciled sign that read, "Don't tear children from family." Next to her, a Latinx girl held a sign on which she had sloppily scrawled, "Kids Nap Not Kidnap."
At the very top of the structure, a white boy held his sign high. In black and blue ink, the sign read, "Voldemort called he said to take it down a notch," with multiple underlines under the text.
Throughout the evening, speakers including Rep. Alma Adams, Elisa Hernandez of Comunidad Colectiva and Hector Vaca of Action NC spoke out against President Donald Trump's "zero-tolerance" policy, which has led to the separation of families seeking asylum crossing the southern U.S. border.
Speakers urged those in the crowd to vote in November in order to push out those who have been supporting Trump's policies.Charlotte poet Hannah Hassan performed a piece before people in the crowd began lighting candles for a vigil to show support for immigrant families.
Many in the crowd held signs calling for the abolishment of Immigrations and Customs Enforcement, or ICE, the agency formed by the Bush administration in 2003 that has stepped up efforts to track down undocumented immigrants in the United States since Trump's administration took over.
In the crowd that night was Jose, who asked that his last name not be used in this story. Jose said that, while he appreciates seeing folks come out to support the cause, he worries about how much helpful engagement will come from it.
"I think the Democratic establishment, they have a certain position of power, too, which they're desperate to hold onto and they do so by acting like a sort of progressive beard," Jose said. "They have good rhetoric, but outside of vigils and peaceful demonstrations and making sure to remind people to vote, it doesn't go farther than that."
Jose pointed out that even under President Obama, whom he called a "progressive idol," more people were deported than under any sitting president.
"We feel like the true change needs to come from the people on the ground and not from these politicians that just want your vote. So that's what we're trying to do: direct action," he said.
Less than 24 hours after Saturday night's vigil ended, Jose and nearly 40 other local activists set up a staging area in front of the Department of Homeland Security's Charlotte office on Tyvola Centre Drive in southwest Charlotte. With tables of food, bottles of water and Gatorade, snacks, lawn chairs, tents, signs and all sorts of other preparations, the group prepared to stick around for a while.
Their plan was to occupy the sidewalk in front of the DHS office in protest of ICE's presence there, with hopes of attracting more activists and building up the occupation to match similar protests happening across the country in cities like Philadelphia, Pennsylvania; San Francisco, California; and Portland, Oregon.
Once enough people showed up, the group planned to set up a confrontation with police and DHS agents by blocking the entrance of the office building so that employees and, more importantly, deportation buses could not leave.
They said they planned to stay in front of the DHS offices indefinitely, or until ICE was abolished.
In front of the DHS offices, a young woman named Lelia told us why she felt she needed to do more than hold a candle and listen to speeches. Lelia is a member of People's Revolutionary United Collective, a socialist activist collective that formed in the last week of June and helped organize the Occupy ICE protest alongside the Carolina Workers' Collective.
"I want to do organizing that will actually make a difference, and not just voting and stuff like that, because that obviously doesn't work whatsoever," Lelia said. "I would like to grow this movement to have enough people so that we can begin blocking those buses. I want to disrupt their operations as much as possible.
"When it comes to resistance, there's so many things that I wish I could do, but we're not ready for that," Lelia continued. "So if we can begin at least by resisting what's going on, that's what I want to do."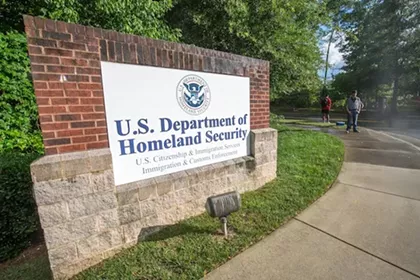 37 slides
The two protests showed contrasting styles used by established activist groups like Action NC, which helped organize the vigil, and younger groups like the PRUC.
However, on Monday, July 9, just eight days after beginning the occupation, the Occupy ICE protesters held a press conference stating that members would be packing up and ending the protest. The group, which had been denied its wish to set up tents like those in San Francisco while they sat in shifts for 24 hours a day, had struggled to gain media attention or to increase its numbers in such an out-of-the-way part of the city. After about 40 people showed up for an anti-Fourth of July cookout on Wednesday, July 4, numbers had dwindled and those who had stuck around began to see that their energy could be better spent elsewhere.
On Monday afternoon, after a keffiyeh-masked protester read a statement for TV cameras announcing the end of the protest while standing in front of a large banner held up by fellow masked protesters, Jose told Creative Loafing the group would be joining forces with organizations like Action NC and Comunidad Colectiva to directly help immigrant families, while also targeting locally based corporations that have profited off of Trump's zero-tolerance policy.
"We believe in a diversity of tactics, so we want to oppose this white supremacist ethnic-cleansing campaign through all avenues possible, and that's through speaking to our local leaders and pressuring them to stop collaborating with ICE. That's peaceful demonstrations, mass mobilizations and, if it comes down to it, militant confrontation if we have to defend our immigrant residents from being stolen away," Jose said.
"We believe if no opposition is shown, it's only going to ramp up," he continued. "It's going to become more and more violent, so we're here to show that no matter how, no matter what, we will be here to oppose this in any way that we can."
For Action NC, that opposition will come in multiple forms. For more than a year, organizers with Action NC have been working on a campaign to shine a light on corporations that invest in America's two largest private prison firms, The GEO Group and CoreCivic. Acording to a 2016 report from research and policy center In the Public Interest, Wells Fargo has long invested in both corporations, each of which saw large spikes in stock prices the day after President Trump's election.
According to Hector Vaca, with those private prison companies now involved with incarcerating families and children at the border, organizers plan to rev their campaign into high gear, targeting companies like Wells Fargo, Bank of America and JPMorgan Chase.
When Creative Loafing met with Luis Betancourt outside the DHS offices on July 4, he was already discussing many of the same talking points as Vaca. Betancourt, who helped form the PRUC and organize the Occupy ICE protest, said that one of his main priorities in organizing has been to point out the connections between the prison industrial complex and the immigration crisis.
"This whole immigration crisis happened because the drug war escalated violence in Latin America; the drug war happened because black people were criminalized for addiction, thanks to the United States," Betancourt said. "Instead of helping people, they criminalized people and they created the drug war, which also created the prison industrial system, which is what is affecting these immigrants. They look at these immigrants as a good way to fill these prisons."
Action NC is also looking into ways to help those immigrants who are now facing deportation. The organization has recently begun a "universal representation" campaign, in which they hope to convince city leaders to fund free legal representation for immigrants facing deportation in immigration court.
Vaca said he has had discussions with five Charlotte City Council members, although he hasn't been impressed with those conversations.
"We're still working on it. They're hesitant because they're afraid of the General Assembly. Although from our members' perspective, they're hesitant because they just aren't brave enough to actually stand up for immigrants," Vaca said. "It's just not politically in their interests for some reason, rather than looking at it from what's right."
What would help make movements like the universal representation campaign more politically interesting to elected representatives would be a larger show of support from voters. During the Saturday night vigil and the weeklong occupation, many activists voiced their wishes that those hundreds of people who showed up to light candles at First Ward Park would begin doing the work needed to make a difference in the lives of people most vulnerable to Trump's policies.
For Lelia, it's a reason she's skeptical of events like the June 30 vigil.
"Usually people are comfortable doing vigils because it's like, thoughts and prayers is what they're used to," Lelia said. "It's very easy to get that checked off your list and say, 'Yes, I did something for those kids.' But in reality, yes it's good to come together, but you're not doing anything. Vigils are not enough."
It's a problem that Elisa Hernandez, who has worked on the ground as a community organizer with grassroots immigration organizations Comunidad Colectiva and Alerta Migratoria for years, has long been familiar with. In fact, it served as the basis for much of her speech at the vigil, in which she appealed passionately to those in the crowd, many of whom looked to be middle-class suburbanites.
"The time is now to stand with, fund and put into local organizations doing the work," she demanded. "The time is now for allies to step up when needed and not then step back. We are here first and foremost for those directly affected by these policies. We must listen to our immigrant community on a daily basis. We must stand side by side with immigrants in all times of need. Do not make this a one-time action for immigrant justice, because we don't need momentary heroes, we need people who are in this fight for the long haul."
To help spur those folks out of what could be just a momentary trance, Action NC joined Comunidad Colectiva and the Charlotte Center for Legal Advocacy to host an event at the Midwood International & Cultural Center on Monday, July 2, during which the more than 100 people in attendance engaged with folks doing the work and learned how they could engage.
While Vaca agreed it's important to hold events that "activate" folks who might otherwise watch from the sidelines, he said he's also noticed how Trump's policies have been doing that all on their own lately.
"The longer Trump is in office, the more people are getting angrier and angrier and want to get involved anyway, because his general evilness is motivating people to fight harder," Vaca said.
"The cruelty against immigrants, including what's going on at the border where families are being separated and the administration is finding that putting children in cages with their parents is the solution, that's motivating people, too," Vaca continued. "Because it's bringing people together from both sides of the aisle, regardless of gender, religion or party affiliation. People are getting activated because of that."
It remains to be seen just how effective this new wave of activism around immigration will be, but regardless of how many vigil-goers join the fight, those who have been on the ground plan to keep at it.
On Monday, as the local media camera operators packed their news equipment and activists prepared to clean up the site that they had called home over the previous week, Jose said he was confident that the occupiers got their message across, even if the protest didn't gain as much traction as the group originally hoped.
"What we want to do is show that there is a groundswell of opposition to this that's more radical and militant than I think some people are accustomed to," Jose said. "But just in what we did this last week, we've gotten groups reaching out to us, we've gotten support from community members just driving by and supporting us and handing us donations, so we definitely feel like we have supporters and people are on our side."
It's now just a matter of whether those people remain bystanders rooting from the sidelines or joining Jose and his fellow organizers in the trenches.