There are plenty of people, whether via social media or traditional media, trying to tell us about the people participating in the 'Occupy' protests going on around the country. What I haven't been hearing a lot of are the actual voices of the protestors. So, I've decided to bring some of them to you.
Know that there weren't many people at Occupy UNCC on Wednesday, which was part of the greater Occupy Colleges event taking place on campuses around the country. I counted eleven people total when UNC Charlotte's bell tower tolled at noon, the time when students had been asked to walk out of class, three of whom walked away right after I spoke with them.
I figured that even through there wasn't a crowd or anything dramatic going on, it would be a good opportunity to begin collecting stories from Charlotte-area protestors. In fact, I thought it would be the perfect opportunity.
Here are the four I collected: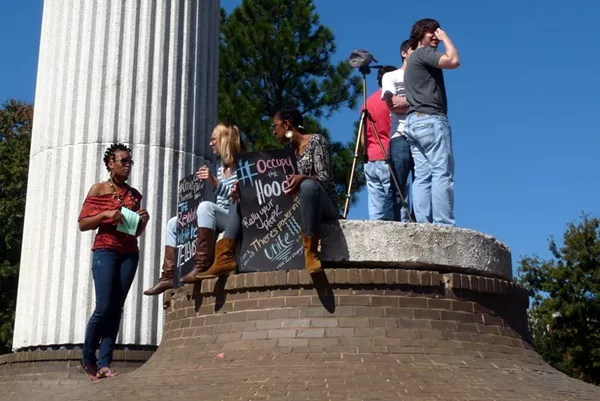 (L-R) Adeishia Dubose, Shayna Gordon, Ryan Erwin and a student film crew at UNC Charlotte's bell tower
Ryan Erwin. Senior in Africana Studies major with a Women in Gender Studies minor. "I am here to declare that I want to be a fully free human being with no restrictions, no standards to be held to, and no systems that are governing my life unless it's going to govern it in a free manner." When asked how she'd feel if no one participated in the walk out, she responded, "I guess we'll just have to roll with those punches and come back out here tomorrow." Listen to Ryan in her own words:
Shayna Gordon. Sophomore in Education and an English minor. "I'm here because I'm sick of having to deal with the repercussions of economic injustice and corporate greed in our country." Listen to Shayna in her own words:
Adeishia Dubose. Senior in Sociology with a minor in Africana Studies. "We're pretty much here to let everyone know that we're very serious about this movement and that a change must happen before America goes down a path that we can't dig ourselves out of." Listen to Adeishia in her own words:
Destiny Nixon. Senior in Communication Studies with a minor in Journalism. "I'm really here out of frustration because when I'm trying to get more information about what's going on with the protests and why people are protesting, you usually get it from the angle of the angry protestors and we get more about what's going on out there as far as them being jailed and not why they're actually out there and what they're standing up for." Listen to Destiny in her own words:
So you know, I'd like to take full credit for this storytelling method, but I can't. I was inspired by Edward Champion, a journalist covering the Occupy Wall Street protests. Click here to read his "Nine Conversations and a Protest Song post."
Thank you to Ryan, Shayna, Adeishia and Morgan for helping me with this project. And, apologies to the other four students who agreed to have their stories recorded; this was a learning process for me, too, and I managed to screw up your recordings somehow. (Eek!) But thank you all the same. Sometimes screwing up is the best way to learn, and I appreciate your helping to prepare me for future such storytelling opportunities.
Further reading: What They've Come to Find at Occupy Wall Street Is America
UPDATE: UNC Charlotte student calls into NPR's Talk of the Nation and gives Occupy UNCC and Occupy Charlotte a shout out. Listen here.