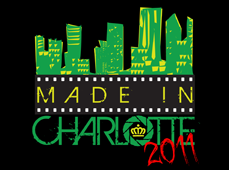 The Charlotte Film Community will announce the results of its second annual MADE IN CHARLOTTE competition at 7 p.m. Monday, Oct. 10, at Whiskey River in the Epicentre.
For this latest contest, filmmakers were asked to produce a short film that answered the question, "What scares me?" All of the submitted works were judged by a panel of celebrity judges, and awards will be handed out in several categories, including Best Director, Best Actor, Best Actress and Best Overall Film. There will also be a Viewer's Choice Award that was determined by online community voting.
Admission to the awards ceremony / costume party is $10; appetizers are included, and there will also be a cash bar. Costumes are encouraged but not required.
For complete information on the ceremony, go here. For more details on the Charlotte Film Community, go here.