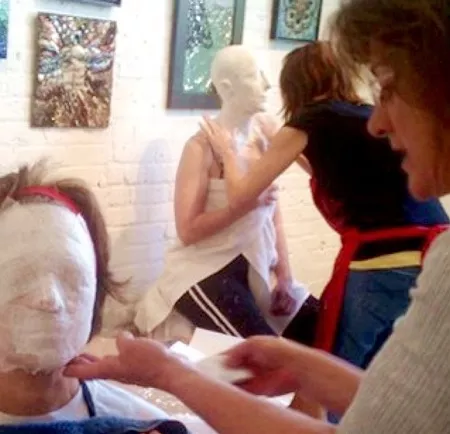 Folks who have ever wondered what it would be like to have a mold of yourself will find Ciel Gallery + Mosaic Studio's
Plaster Body Casting
on Saturday, Oct. 22 a worthwhile experience. It isn't often the opportunity arises to be literally plastered, but today Tina Alberni - a mixed media artist who was born in New York, grew up in Bogotá, Colombia and currently resides in Charlotte where she frequently partners with Ciel Gallery for various arts programs - is facilitating a workshop where faces, hands, or feet will be lathered in gooey substrate. The safe and fast casting technique results in what could be described as a work of art and/or a creepy centerpiece for Halloween, depending on how you look at it.
Creative Loafing
talked to Alberni about the plaster body casting process, and her inspiration in the art form.
Creative Loafing: What types of mediums do you primarily work with?
Tina Alberni: I have been a mixed media artist for several years now. Media doesn't define my work; it's simply the vehicle to get my vision out. I have explored all sorts of concepts through clay and printmaking techniques, such as lithography and monoprinting, oil and acrylics on canvas, mixed media collage, graphite, water/oil based inks, dyes on fabrics, etc.

When did you begin doing plaster body castings?
I taught middle school and high school for about 14 years in Miami. At the middle school level, kids are especially receptive to creating in the three-dimensional. I explored all sorts of concepts with them in a variety of media, one being through the medium of plaster. Concepts that had to do with self-identity, uniqueness, cultural differences and commonalities were explored. Some of my senior level students would see these works and ask for extracurricular lessons to learn the technique. Being older, they liked to push the envelope a little more and some plastered their whole bodies, others half the body, some made busts and so on.
What attracted you to this type of art form?
In college, I took many art classes and got exposed to George Segal's work. He was an American pop artist who started experimenting with plaster gauze in the '60s. He captured the essence of ordinary people; no fuss, no decorative elements, just their essence. I experimented a bunch with plaster and just loved working with it. At that point, since I had finally decided to get my degree in Art Education after nearly getting a plain art degree, the possibilities extended to projects I could do with students and how I could share this technique. I have always instructed and facilitated this art form and just love working with it. People of all ages take to this medium. The casts are substrates with endless possibilities, should one decide to expand from the plain white.
In the interest of making his figures permanent outdoor installations, George Segal decided to bronze several of his casts. They are all over the globe. To me, some of the most inspirational pieces have been: "Depression Breadline", The Holocaust" and "Chance Meeting".
Did you by chance see the plaster body casts of victims in the Pompeii exhibit? If so, what did you think of them?
I have not seen them in person, but have seen plenty of pictures and videos and have studied them in detail. The agony and terror one feels is inevitable. You are staring at one moment of horrific reality of someone's life. The feeling I get from those casts and a few of George Segal's gave me the same feeling I experienced when I visited Auschwitz last year. The vibe of terror is haunting. It's very, very moving. I can relate to that agony and terror on a very personal level. I've had two open-heart surgeries and had my aorta replaced in 2010. I have no words to explain the agony one feels when living one's life in fear of an aortic rupture at any time or the terror one feels when before surgery one is told you may not live, you may end up paralyzed or you may end up with permanent, severe pains. That terror and agony in the casts of Pompeii, or the anguish expressed in Segal's Holocaust casts, or the pain expressed in Frida Kahlo's work - which is not sculptural, but work I really relate to - strikes a very deep chord.
How long does the plaster casting process usually take?
It depends on what part you are casting, but plaster dries pretty quickly and you need 2-3 layers. For example, to plaster cast a hand - if strips are cut and ready to go - you can have a casted piece in about 20 minutes. It's quick and painless. To cast a body you need a whole day.

Are there any special procedures that you follow in casting?
Not particularly. I do use a safe method of plastering. It is a method I developed out of necessity because when teaching plaster casting to 20-30 middle schoolers in one classroom and in a 45 minute period, you have to take every precaution in the world to ensure all is safe and that all runs smoothly. And no, it does not involve Vaseline or any sort of ointment.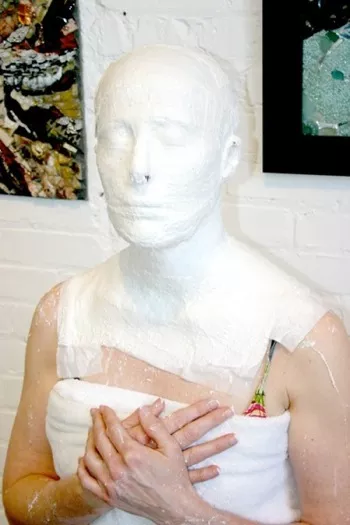 Are there any preparations folks should take before a body casting? It looks like it can get messy. People should wear clothes they don't mind getting gooey, right?
If they are plastering their hand or foot, rolling up their sleeves or slacks will be fine and mess should be contained to the table or floor. If the face is being plastered, then I definitely recommend dressing in clothes that can get messy, and bringing some hand towels wouldn't hurt. If a partial body cast is being planned, that should be discussed with me, to plan the time and date for it. For the upcoming workshop, there are no partial or full body castings planned. I offer private plaster castings to baby shower groups who want to cast the stomach of the mom-to-be, bachelorette party groups, and really anyone who wants a unique activity for a family or group and to those wanting a partial or whole body casting. Castings can be left white or students can join the decorating plaster class on Sunday, Oct. 23. Folks can choose from three techniques: Decoupage, painting or mosaic - for mosaic, they will need to prepare substrate on Saturday, Oct. 22. If doing the face, folks need to have a partner so the partner can cast. If doing a hand or foot, folks can work individually. I will be repeating this workshop in the spring of 2012.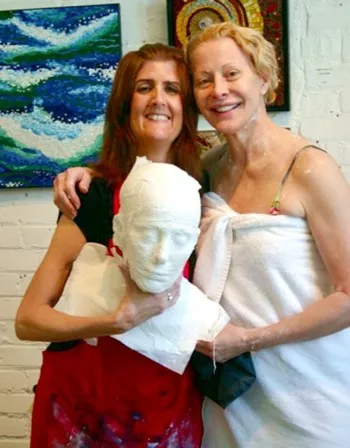 $20 per casting. 10 a.m.-6 p.m. Ciel Gallery + Mosaic Studio is located at 128 E. Park Ave., Suite C. To make reservations, call 980-202-2435 or email design@colordesignstudio.com. For more information on Tina Alberni, visit www.colordesignstudio.com.