Halloween wasn't a day to play for Occupy Charlotte. A dozen current Occupiers, their former de facto leader, Thomas C. Shope, and their current attorney, Kenneth Davies, spent half a day in Mecklenburg County's domestic violence court hashing out a deal on two restraining orders from last week — one against Shope, by Henry Knox Garmany IV, and another that Shope filed against Garmany.
As the judge heard the day's other cases, Davies was in and out of the courtroom with both the Occupiers and Shope. Just before 3 p.m., an hour and a half into the court session, Davies announced that he had tried to work out a deal between the parties and had failed, saying he planned to call "a number of witnesses."
But negotiations continued. At 4 p.m., Davies informed the judge, "We actually just settled the Garmany v. Shope case." Judge Jeanna Culler responded, "Wonderful."
"What we've agreed," said Davies, "is that everyone behaves for 90 days and then my client will dismiss his case and Mr. Shope will dismiss his case." Both parties have agreed "not to bother" each other, he added. Davies then presented the judge with a memorandum of understanding that had been signed by the Occupiers and Shope.
Shope, who was not represented by an attorney and who did not bring witnesses with him, confirmed the details of the agreement and then asked the judge if she wanted to continue the case until the next day so that he, too, could bring witnesses to court. Judge Culler responded, "No, I'm not going to continue this case — not for you to bring witnesses that you could have brought today."
In the end, both sides agreed to these stipulations:
* Neither side shall "visit, assault, molest or otherwise interfere with each other."
* They must stay 50 yards away from each other.
* There is to be no contact via "telephone, written communication or electronic."
* Shope may "not enter or remain present" at Old City Hall, at 600 E. Trade St., where the Occupiers are currently camping.
* Shope is also to stay away from Garmany, and fourteen other people listed in the judgment.
* Shope "will not participate, directly or indirectly, in General Assembly."
* Garmany was ordered to avoid contact with Shope's family as well.
If both sides abide by the consent order for 90 days, until Feb. 1, 2012, the judgment reads, both sides will dismiss their claims and the restraining orders will "dissolve."
Both sides allege threats were made. Shope is accused of saying he wanted to use Guy Fawkes' masks for target practice with a 12-guage shot gun. (Shope confirmed with Creative Loafing that he does have a gun and martial-arts training and is prepared to protect his family and property should anyone threaten them.)
Shope accuses some of the Occupiers of being part of the group Anonymous. He says they posted his personal information and photographs of his wife and daughter online alongside his home address and threatened his family's safety.
Because Shope's response to the restraining order only listed Garmany's name, the official judgment only restricts Garmany, although Davies told the court, "I'll state for the record: We did agree that none of these people will bother Mr. Shope or his family."
Outside of the courtroom, Matthew Dunn, one of the Occupiers Shope is ordered to stay away from, said the group decided to work out a deal with Shope because "he agreed to our terms." However, he added, "We were ready to go to trial if we had to."
Shope denies that, saying, "They were the ones who wanted to settle, not me. They were afraid of being exposed as Anonymous North Carolina." Ultimately, he said, the agreement protects all parties and will allow them to move on.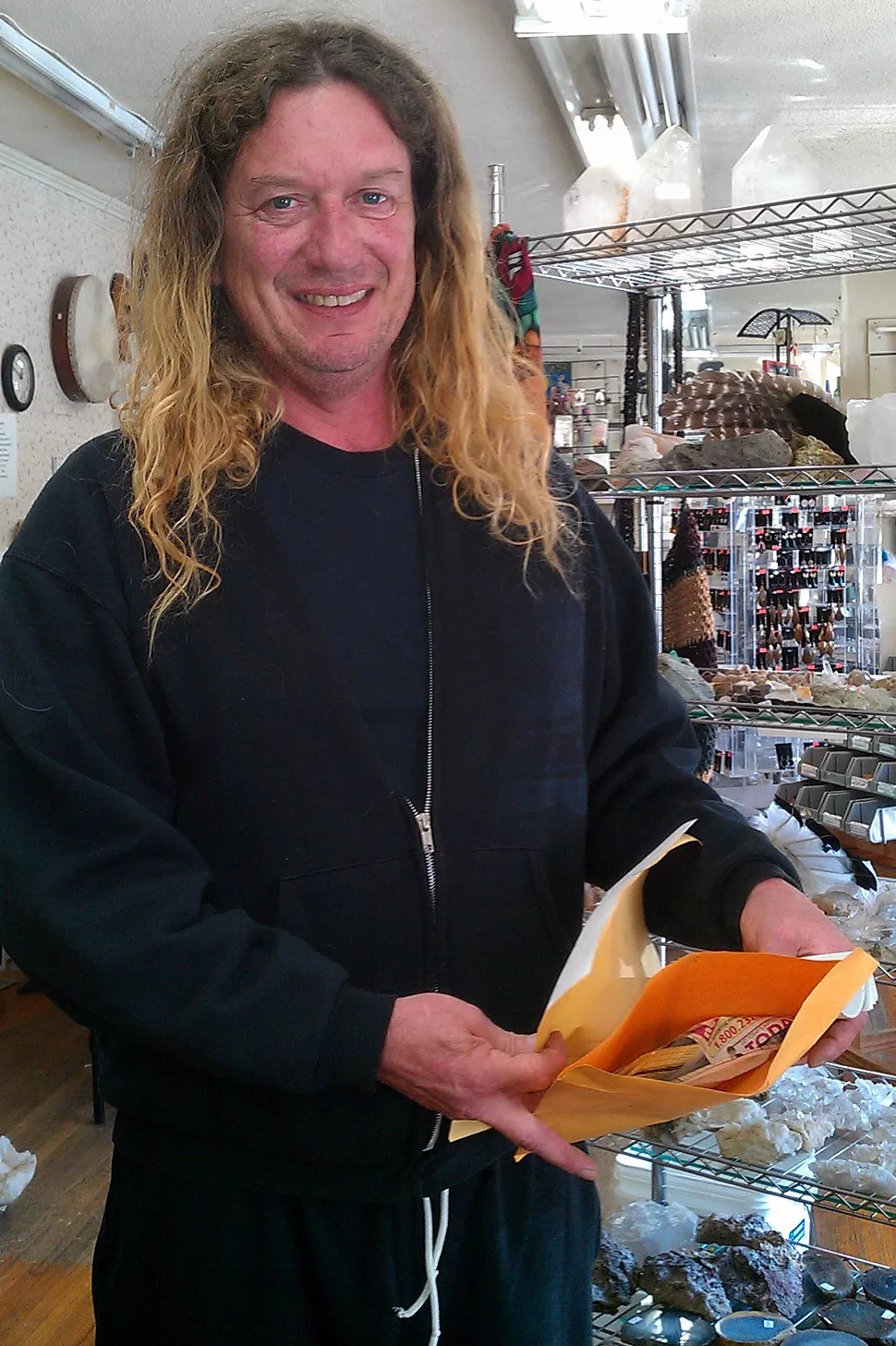 Tom Shope with an envelope of receipts labled "Occupy"
Shope was expelled from Occupy Charlotte on Oct. 19 for, among other things, creating a WePay account without the group's consent. He has made no secret that he legally registered the name "Occupy Charlotte" and that he intends to move forward with his own plans. "I think they are failing," he said of the current Occupiers, "and we're ready to move on." He expects court battles over the group's name and donations.
"I can still function as Occupy Charlotte," said Shope outside the courtroom. "I still have the deed, I can still move on with my plans." He contends his previous actions were made to "protect" the movement and that he can account for every dollar taken in and spent when he was involved.
Shortly after the judge's decision, a message to the current Occupiers — which Shope showed Creative Loafing last week — appeared online. Additionally, the group's old Facebook account, which Shope started, was reactivated.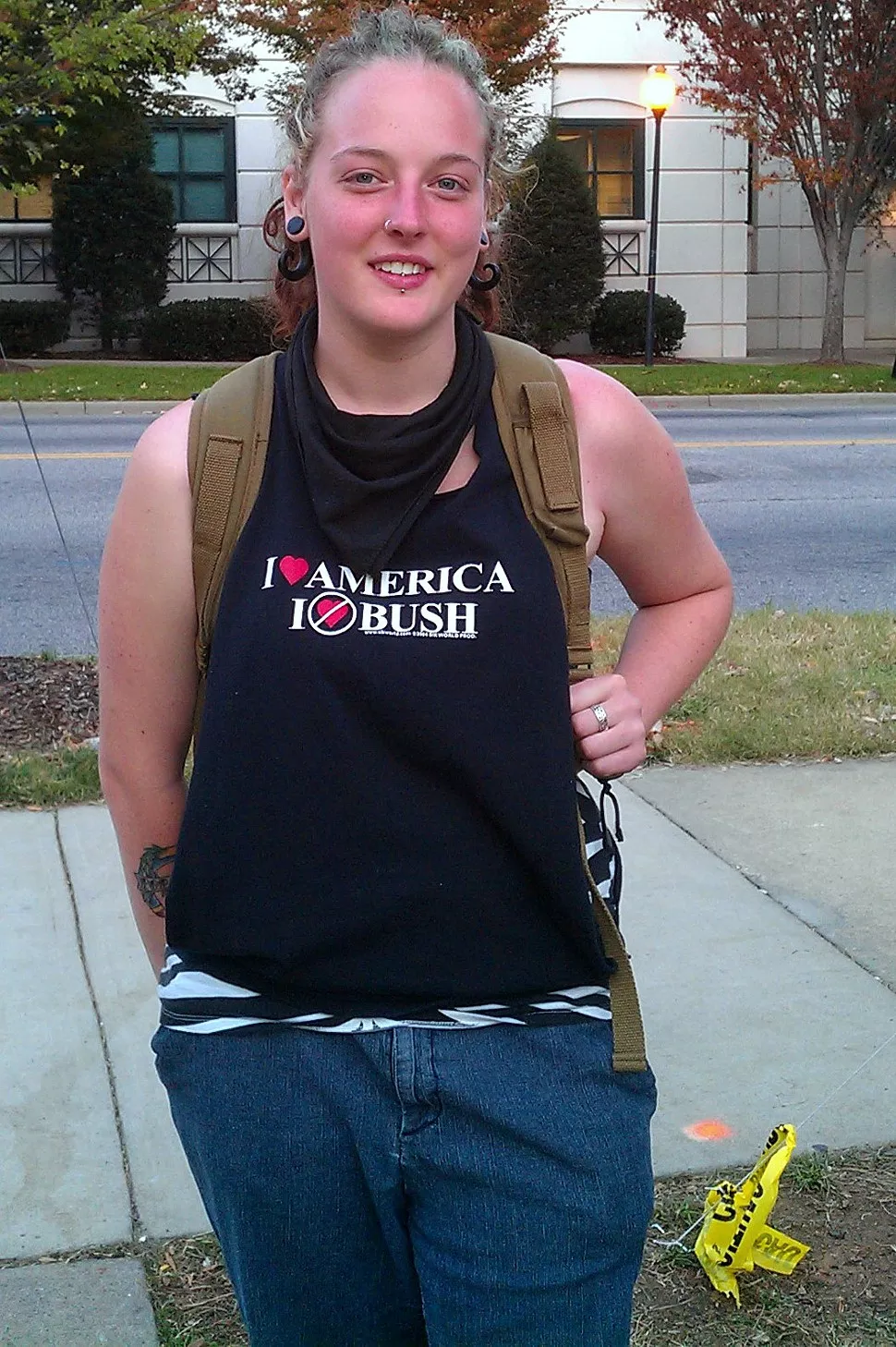 Victoria Suter, an Occupier who'd like people "to stop spreading negativity."
Occupier Victoria Suter disagrees with Shope's assessment of the group as "failing," saying, "We're making strides, especially in the last few days. Things have really made a positive turn."
She pointed to the group's support of Action NC's pledge to protest West Charlotte's Stonewall Jackson homes where Latino residents were facing a swift eviction. That matter was resolved in the tenants' favor after word spread that Occupy Charlotte would be protesting with them.
Suter also pointed to Bank of America's backtrack on its $5 debit-card fee, which the protestors plan to applaud today during their lunchtime action.
Follow the paper trail:
Occupy Charlotte expels Shope from their movement on Oct. 19
Occupy Charlotte expels Shope from their movement on Oct. 19
Occupy Charlotte sent Shope a cease and desist letter on Oct. 20
Occupy Charlotte sent Shope a cease and desist letter on Oct. 20
Henry Knox Garmany IV takes out a restraining order on Shope Oct. 24
Henry Knox Garmany IV takes out a restraining order on Shope Oct. 24
Shope responds to the restraining order on Oct. 31
Shope responds to the restraining order on Oct. 31
The Judge's ruling, Oct. 31
The Judge's ruling, Oct. 31