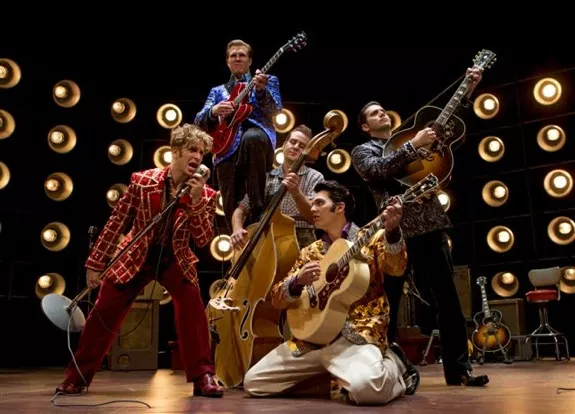 If you've seen the TV promos for
Million Dollar Quartet
ballyhooing the current run of the show at Knight Theater, I should let you know that the film clips of the show are
not
from the touring production. The actor portraying Johnny Cash, whom I can fairly positively identify as Lance Guest, is from the original Broadway cast. So you're being misled: the promo is
underselling
this very fine touring version.
For those of you who remember The Man in Black — and that would be most of us, right? — Guest looked more like a pudgy Rob Lowe (or a slightly slimmed Richard Masur) than the raw-boned troubadour of "I Walk the Line" and "Folsom Prison Blues." With low notes that warm your toes, bass baritone Derek Keeling not only sounds more like Cash, he has that lean hungry look.
Better yet is the extraordinary Cody Slaughter as Elvis Presley. His upper range wails about a third higher than the original Pelvis, but when he goes down low, he is right in the pocket. He's got the moves of The King, and the facial resemblance is so striking it's eerie. Compared with the understudy my wife Sue and I saw on Broadway — or Eddie Clendening, whom we sampled in the Tony Award broadcast — Slaughter delivers far more voltage. Up in New York, E was upstaged by the sensational Jerry Lee Lewis of Levi Kreis. Here, Slaughter is at least the co-star of this legendary summit meeting of four Sun Records immortals on December 4, 1956.
Now that's partly because Martin Kaye isn't quite as vulgar, backwoods, and rockin' raucous as The Killer. Kaye is a sufficient monster at the keyboard, but he doesn't do Jerry Lee's signature shticks, the hands around the mic and right heel up on the treble keys, with quite the same élan. He righteously rocks, however, proven by the glow he conjured up on my Sue. An impassive critic is not supposed to shout out "my barn!" when the volume cranks back up on "Whole Lotta Shakin' Goin' On," but I must plead guilty. I did it again.
Completing the quartet is Lee Ferris as Carl Perkins, the rocker who had made such a big deal out of a pair of "Blue Suede Shoes" earlier in 1956 — before Elvis notoriously sang it on The Ed Sullivan Show. Now there probably aren't five people in any Million Dollar Quartet audience who could actually recognize Carl these days, so it doesn't much matter what Ferris looks like. I find that he closely resembles Robert Britton Lyons, the dude who played Perkins on Broadway, but I think the edge on lead gee-tar goes to Ferris.
I'm not sure Elvis really had a lady on his arm when he decided to look up his good ole producer at Sun Records, star-maker Sam Phillips. More than a few things in this re-creation of the Memphis summit, beginning with the playlist, veer wildly from actual history. But without a female to slaver over The King, how were book writers Colin Escott and Floyd Mutrux to communicate his immense charisma and sexual appeal? Kelly Lamont as aspiring singer Dyanne vamps her date with "Fever." Just as important, she provides Slaughter — and the lusty Kaye — with somebody to come on to.
Christopher Ryan Grant plays Phillips, who narrates enough about the tribulations (and boutique uniqueness) of Sun Records to lift this casual jukebox musical into the realm of story, occasionally with those pulsations that are the hallmark of passionate drama. Grant played Phillips on Broadway, but not when we saw it. He's just one more lift that we experienced in the touring edition, and one more rockin' reason that Charlotte is very, very lucky.