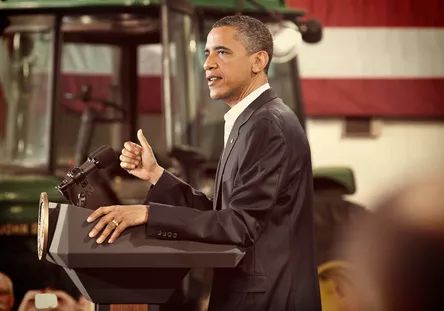 Four years ago, Barack Obama opponents prayed for a Denver deluge; those prayers were not answered. Obama accepted the Democratic Party's presidential nomination beneath clear skies in Invesco Field. On Tuesday in Charlotte — under overcast skies — a line-up of party and convention officials, mayors and volunteers stood where Obama will stand in September. The president, it was announced, will accept his re-nomination in Bank of America stadium on the 2012 convention's last climactic day, when it will move from Time Warner Cable Arena to an open-air venue able to accommodate 74,000 people.
On Wednesday, 500 members of the media from outlets across the country and as far away as Qatar and Japan got a logistical briefing and walkthrough of convention sites. During the convention, about 15,000 members will descend on the city.
By choosing Charlotte as the site of this year's September convention, Democrats had already signaled that the party "is not going to cede any ground" in North Carolina, Democratic National Committee Chair Debbie Wasserman Schultz said on Tuesday. In the last election, Obama won North Carolina by just 14,000 votes. With the party in the state and "on offense," Wasserman Schultz said, it hopes to "keep North Carolina blue just like it helped to turn Colorado blue in 2008."
Some things have changed, of course. Economic uncertainty and partisan divisions mean a tight race no matter which candidate the GOP chooses the previous week during the Republican convention in Tampa. (From the primary predictions next door in South Carolina, the GOP candidate looks to be Mitt Romney.)
That makes more urgent the Democrats' desire to replicate the spirit of Denver, when a fired-up base filled the stadium. "These people didn't donate any money, they weren't delegates, they were supporters from across the West who received community passes to attend," said Wasserman Schultz. If crowds gather from across the South — particularly neighboring Virginia, another traditionally red state that turned blue in 2008 — so much the better for Democrats.
Democratic National Convention Committee CEO Steve Kerrigan repeated his refrain of an "open and accessible" convention and on Tuesday fended off questions about the host committee's progress on raising $36.65 million for the convention, saying it was "right on track" and following "federal election commission rules" on disclosure. He repeated that this convention would be the first to be funded without cash donations from corporations, lobbyists and PACs, or individual donations over $100,000. He also joked about "74,000 wonderful blue seats" in Bank of America stadium. Will the skyboxes be a lure to donors? We "haven't had that conversation." Will the unwelcome reminder of the Charlotte-based troubled bank send an awkward message for a "people's convention"? We "don't make decisions based on naming rights," said Kerrigan. Wasserman Schultz stepped in to say, "This president has a remarkable record of rescuing the country from the precipice of disaster."
Jerry Richardson, majority owner of the NFL's Carolina Panthers, who play in the stadium, was a presence off to the side on Tuesday, saying after the press conference, "Obviously, we want the city to be presented in the best light possible." The team will have to play its first regular season game away, "something you don't necessarily want to give up," said Richardson. The political independent said he's not charging the DNC rent. "They have access to everything in the stadium," though they won't have "every" suite, he said, signaling his own premium view.
Mayor Anthony Foxx beamed about this new development and another change announced on Tuesday. The convention is going to be shortened by one day, from four to three days — Sept. 4 through 6 — with the Monday of convention week, Labor Day, designated as a day to celebrate the Carolinas, Virginia and the South at Charlotte Motor Speedway. That means a showcase for two of the state's "iconic venues," he said.
"We are going to use this convention to make a lasting impact on communities across the state, bringing exposure on the world stage, media attention, financial investment and visitors," said Foxx, hoping for benefits for the city and, perhaps, his own political future. Scott Padgett, mayor of Concord, home of the speedway, said on Tuesday, "We know how to host big events." He promised Southern hospitality and family friendly events.
While details on the Monday event are sketchy so far, Wasserman Schultz mentioned that day as a chance "to continue the conversation President Obama started five years ago." Maybe with music? On Wednesday, Kerrigan said the Labor Day event would be a way to celebrate "in a real way with our friends from organized labor."
With the host committee organizers officially nonpartisan, I asked Foxx on Tuesday if by setting a convention week free public event smack in the middle of NASCAR central, Democrats were hoping to make inroads among voters not known as Obama friendly. (Remember first lady Michelle Obama drew scattered boos when she honored military heroes at a Florida NASCAR event in Florida in November.) "It's an exciting idea, having an event at the speedway, a link to the culture of NASCAR, which grew up around the mountains of North Carolina," he told me.
So I tried again. "This president is incredibly committed to representing every American," Foxx said. "I don't doubt the event might draw people who may not have been to the speedway before." And NASCAR fans watching the goings-on? There will be "a lot of exposure" on all fronts, he said.
On Tuesday, asked about scheduling outdoor events during hurricane season. Kerrigan answered, "The benefits far outweigh some of the risks." He and the Democrats must be hoping Obama's 2008 margins — and the rain — hold.
Mary C. Curtis, an award-winning Charlotte, N.C.-based journalist, is a contributor to The Washington Post "She the People" blog, The Root, NPR, Creative Loafing and the Nieman Watchdog blog. Her "Keeping It Positive" segment airs Wednesdays at 7:10 on TV's Fox News Rising Charlotte, and she was national correspondent for Politics Daily. Follow her on Twitter.