Last Saturday, May 5, a friend of mine and I went to FashionSOUL at Amos' Southend. The showcase of local fashion designers was supplemented by local artists and entertainment. And here is where we discovered cool dudes in swagalicious suits, live-painting a masterpiece.
A painting that, by the end of the night, my friend just had to have.
The live painting performance is called "Where It's At," and this isn't the first event the collaborating artists have participated at. (Past "Where It's At" performances have taken place at Common Market in Plaza Midwood, Bass Church, and as part of the Culture Initiative 3-year anniversary held in December.) In a three-hour span, several artists work together, drawing from the energy of an event in addition to their own creative vibes, to create a unique final project. As the creators write on the Vimeo page: "Think of it as a jam session, using paint instead of instruments." Hey, three heads are better than one, right?
Here's the video of Saturday night's painting performance. The contributing artists were Erich Moffitt, GONZA and Scott Partridge. Nicely done, guys!
And here's the final piece, in my friend's bedroom. It's just a smidge big.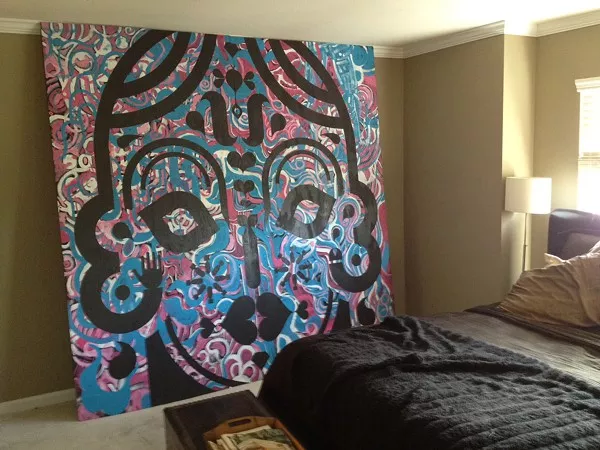 To check out this local talent, hit up their website or Facebook.