Charlotte-based contemporary artist Sharon Dowell uses her travels - from far away lands like Iceland and Ireland to various states within the U.S.A. - and history as a muse. Most recently, she's been delving into the past of London's biker subculture in the 1960s. The curator for Culture Initiative and Baku Gallery's Folk Devils, Moral Panics & Pinups exhibit, Dowell knew little about motorcycles and the Mods vs. Rockers phenomenon before she started researching in preparation for the show, which runs through June 30. CL spoke to Dowell about the exhibit, as well as her own artwork and upcoming projects.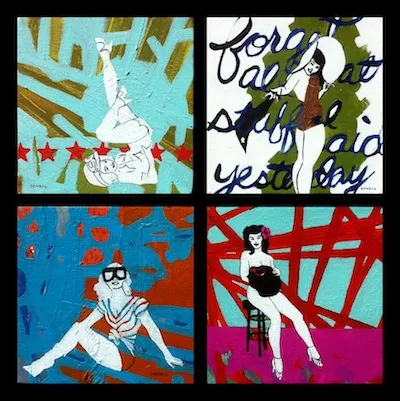 Creative Loafing: What are the themes of Folk Devils, Moral Panics & Pinups?Sharon Dowell:
It's all about '60s London. Back then there were these guys, and they called themselves the Rockers. They hand built motorcycles. They were wild and crazy, and they all dressed like Elvis with black leather. There was this other group called the Mods, and they were the guys who rode the Vespas and scooters. They dressed really preppy. They snubbed drinking, but they did crazy amounts of amphetamines. And they were the mean ones. They carried knives. So, [the Mods and the Rockers] didn't like each other. There was a bank holiday at Brighton Beach, and that's where everything exploded. There was this big fight. In the newspapers back then, they called them "Folk Devils," "Moral Panics," and I thought that was a cool name. I've asked all the artists to create works based on that. I've done a bunch of small pinup girls with helmets or goggles - kind of mod. I'm also collaborating on a huge painting with cutouts for faces with Cher Cosper.
What are the themes that run through your artwork in general?
For a little over a decade I've been painting a lot of architectural imagery, a lot of urban landscapes and some figurative pieces. It's always been about layers and trying to capture the energy of the space. The last few years, I've been able to travel and do some residencies. That's been really amazing because I'm very inspired by the places I travel to. I've incorporated the landscapes, architecture, energy and people I come across. Everywhere I travel, I try to take an extra day to walk around and take photos. I use the photographs for reference, and I de-saturate them on my laptop. That way when I paint, the color comes from the experience or my memory of the place and not necessarily from a photograph.
What upcoming projects are you working on?
I'm working pretty heavily on a CATS Transit project for the light rail. I'm designing all the art for the 25th Street station. I'm working with my photographs digitally and incorporating my paintings into the work digitally. It's going to have a lot of architectural imagery and some silhouettes of people to represent different types of Charlotteans. There's going to be a lot of color and hopefully a wall mural.
Free admission. Exhibit continues through June 30. Hours: Monday-Thursday, 12 p.m.-8 p.m.; Friday-Saturday: 12 p.m.-10 p.m.; Sunday, 12 p.m.-6 p.m. Baku Gallery, 3200 N. Davidson St. - Mary Stevens