Critics up in New York were almost universally wowed by the most recent revival of La Cage aux Folles starring Douglas Hodge and Kelsey Grammer, and the production, directed by Terry Johnson, won Tony Awards for Best Musical Revival and Best Director, with Hodge taking Best Actor honors. I was unimpressed by Johnson's take: homophobe politician Monsieur Dindon was portrayed as buffoonish rather than dangerous, the cross-dressing Les Cagelles chorines impersonated body builders more resolutely than women, there was no chemistry between Georges and Albin, and their son Jean-Michel was an absolute monster until the denouement. Luckily, the touring version of the production begs to differ. Paying a visit to Blumenthal's Belk Theater on a six-day run, the show proved to be a worthwhile experience.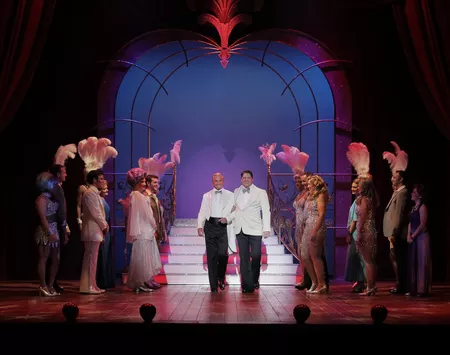 Now I'll admit that I saw an understudy in Grammer's role as Georges in NY, which could account for nearly all the deficits of warmth and chemistry. Yet the core of the production seemed fundamentally misguided. Johnson's ruling principle, as he reprised this 1983 Jerry Herman-Harvey Fierstein classic, seemed to be that homophobia had become a laughable ancient relic during the intervening 27 years. As for the Arnold Schwarzenegger posturings of Les Cagelles, I'll leave it to others to parse out how political correctness yielded such a repellent blunder.
So while others may be deeply disappointed, I'm happy that the current touring version of La Cage, still directed by Johnson, is radically different from the one I witnessed two summers ago at the Longacre Theatre. Johnson has added a pre-show where one of the chorines works the audience, so the reality of North Carolina's embarrassing Amendment One is addressed even before the overture whisks us away to St. Tropez. The high-kicking Les Cagelles are less butch now than they were in 2010, their costumes more feminine and peacocky when they dance in their elegant birdcage. Best of all, the pompous starch has been restored to Dindon.
I did have my difficulties adjusting to George Hamilton as Georges. Bob Barker kept leaping to mind every time the deeply bronzed Hamilton flashed his gameshow host cheer and charm in his simulation of urbanity. Nor was Hamilton age-appropriate as the father of a 24-year-old son on the brink of marriage, particularly when he protested that Jean-Michel's existence was the result of a youthful indiscretion. You could hardly hear Georges early in Act 1, but surprisingly enough, Hamilton's singing is more robust and satisfying than his acting when he reaches Georges's signature "Song on the Sand."
Here Georges's love for Albin and Jean-Michel comes through more forcefully, and with Michael Lowney's more sympathetic portrayal of the son, there's more to love - and better reason for Georges to masquerade as a heterosexual in order to secure Jean-Michel's happiness. There's also more reason to be moved when Jean-Michel ultimately reconciles with Albin. Christopher Sieber isn't quite the equal of the Albins whom I've seen on Broadway, Hodge and the underrated Gary Beach. But unless you've seen one of these definitive performances, you're not likely to notice the difficulties Sieber is having in the key scene where Georges is helping Albin to shed his effeminacy so he pass himself off as Jean-Michel's fictional Uncle Albert when the Dindons drop in for dinner. That effeminacy needs to look genetically ingrained, not an easy trick.
On the other hand, Sieber roars like thunder in Albin's anthemic "I Am What I Am" at the end of Act 1. Judging from the cheering of the crowd - and the enthusiastic buzz that lasted through the full 20-minute intermission - the éclat he produced Wednesday was every bit as powerful as the one Beach produced in 2004, a performance that left me trembling from its intensity.
The Dindons don't become bigoted gargoyles in Johnson's re-think of La Cage. Instead, Bernard Burak Sheredy emphasizes the conventional, colorless self-righteousness of M. Dindon, his authoritarian attitude as a father and a husband. So as Mme. Dindon, Cathy Newman can evolve from brittle obedience to a wife more willing to break loose and have fun. With her father toned down, perhaps evolving as he makes his final exit in drag, there's also more for Allison Blair McDowell as Anne to embrace in her prospective in-laws: their warmth, their mutual affection, and their risqué flair.
As the curtain goes down in the touring version, Albin and Georges embrace each other. Not that formal French double-cheek pecking that I saw on Broadway, but a real kiss. It's the strongest evidence I have that since 2010, after relegating homophobia to the scrap-heap of history, director Johnson has not only re-thought La Cage but also, in spite of the Tony Awards, looked at himself in the mirror.