The Main Library film series Ships Ahoy!! 8 Classic Seafaring Films continues with a screening of Alfred Hitchcock's 1944 Lifeboat. There are many reasons to watch this minor WWII classic, but chief among them is the opportunity to catch a rare film appearance by Tallulah Bankhead. A legendary stage star whose movie career never took off, she was handed her meatiest screen role by Hitchcock and didn't let him down. She plays a self-centered writer who finds herself stranded on the title vessel after the ship on which she's traveling gets torpedoed by a German sub.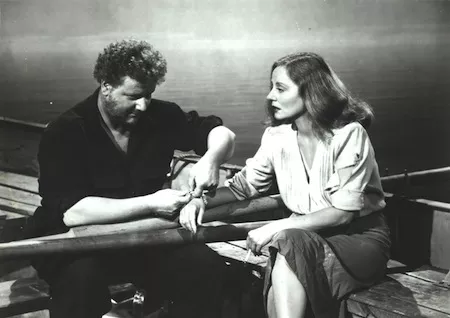 Among the other passengers are seamen of varying dispositions, a millionaire industrialist, and, most troublesome, the duplicitous captain of the U-Boat that shelled their ship in the first place. Working from a story concocted by no less than John Steinbeck, Hitchcock and his crew insure that the movie never feels constrictive, even though it was all filmed on a single set (a feat he would repeat four years later with
Rope
). Incidentally, if you're wondering how Hitchcock managed to include his customary cameo when all the action takes place on the ocean, check out the "before" and "after" weight loss ad in a newspaper floating by in the water!
Free admission. June 23, 2 p.m. ImaginOn's Wells Fargo Playhouse, 300 E. 7th St. 704-416-4600
.