You can go too far in staging Michael Frayn's farce-within-a-farce, Noises Off. The original Broadway production demonstrated that vividly for me back in the mid-80s, when director Michael Blakemore made the three-act script all about Dorothy Loudon's bad English accent as fading theatre doyenne Dotty Otley and Paxton Whitehead's epic nosebleeds as befuddled actor Frederick Fellowes. Every production I've seen since then, beginning with Charlotte Rep's in 1987, has been far more pleasurable than that Broadway abortion.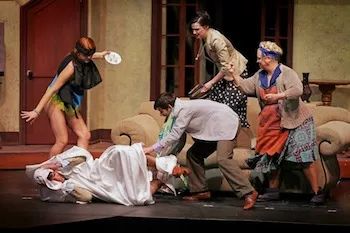 Until now. The current version at CPCC Summer Theatre is so restrained and PC that you'd swear director Carey Kugler had decided that Frayn was actually Noël Coward in disguise. When
Nothing On
stage director Lloyd Dallas delivers his titanic Act 2 monologue on his personal trials during a whirlwind of backstage snafus, he sounds matter-of-fact. And God forbid that bimbo actress Brooke Ashton should ever sound like an airhead or stumblebum actor Selsdon Mowbray comport himself like an all-out lush.
Subtlety and decorum don't totally destroy CP's Noises Off, thanks to the quality of the actors coping with Kugler's constraints. Even before we see them, James Duke's massive, swiveling set design impresses us with a richly appointed country cottage for Nothing On, beautifully complemented by Gary Sivak's lighting. But there's a lot of comedy talent muzzled here.
Anne Lambert's swaggering vulgarity gets past Kugler's comedy proscriptions, so we have a decent Dotty at the center of the action — with her accessory sardines. We could use more cussed don't-give-a-damn attitude in Act 3, particularly for anyone who hasn't seen this farce before, but there are still useful hints. Gossip monger Belinda Blair isn't supposed to be funny, so Haley Henderson has free rein to do a splendid job as the sower of discord. But otherwise, the cast is doing as well as it can under strict orders to flee from the obvious.
A standout as Nathan Detroit in Guys and Dolls at the top of the CP season, Michael Moore manages not to emphasize how inarticulate he is as Garry Lejeune — quite a feat when you think of it, but not a funny one. Likewise, Charity Ruth Haskins manages not to sound dimwitted as Brooke during her Act 1 "sorry" binge, a letdown after her notable exploits as Adelaide. But here some scanty costuming by designer Heidi O'Hare serves as a welcome counterbalance, getting the idea across. Ross Neal should have wandered as far from Sky Masterson as possible as the befuddled Freddy, but the gap between the two isn't nearly wide enough.
The brutal effects of realism impact most devastatingly on Jerry Colbert as Lloyd, so natural and nonchalant in Act 1 on the eve of Nothing On's opening night that the bite of the fretful director's sarcasm is almost completely defanged. We don't see nearly as much of Selsdon, but when sweet Kevin Campbell makes his cast-mates look like unwitting enablers, I can almost wish for the resurrection of Foster Brooks.
Intermissions at Noises Off are always a treat when the huge two-story set revolves, and I like the little shticks that Kugler has added to them. He doesn't always seem to be dying to do Chekhov instead, but the muting extends down to the most menial characters. Poppy Prichett is quietly efficient as stage manager Poppy Norton-Taylor, but she should be whiny and clingy toward Lloyd as a result of his lusty indiscretions. Gyo Gamble is wonderfully goofy as overworked stagehand Tim Allgood, but he should be absolutely bug-eyed with exhaustion.
I'll go ahead and say it: Turn up the noise!