After eight long months, three local occupiers got some good news on Thursday.
All were acquitted of charges of resisting arrest and obstructing or delaying officers after they were apprehended in January for camping outside old City Hall, where Occupy Charlotte had been since last October.
Jason Dow, Scottie Wingfield and Laura Brooks, among others, were arrested after city council passed an ordinance in late January that essentially prohibits sleeping in tents or making preparations to sleep on city property.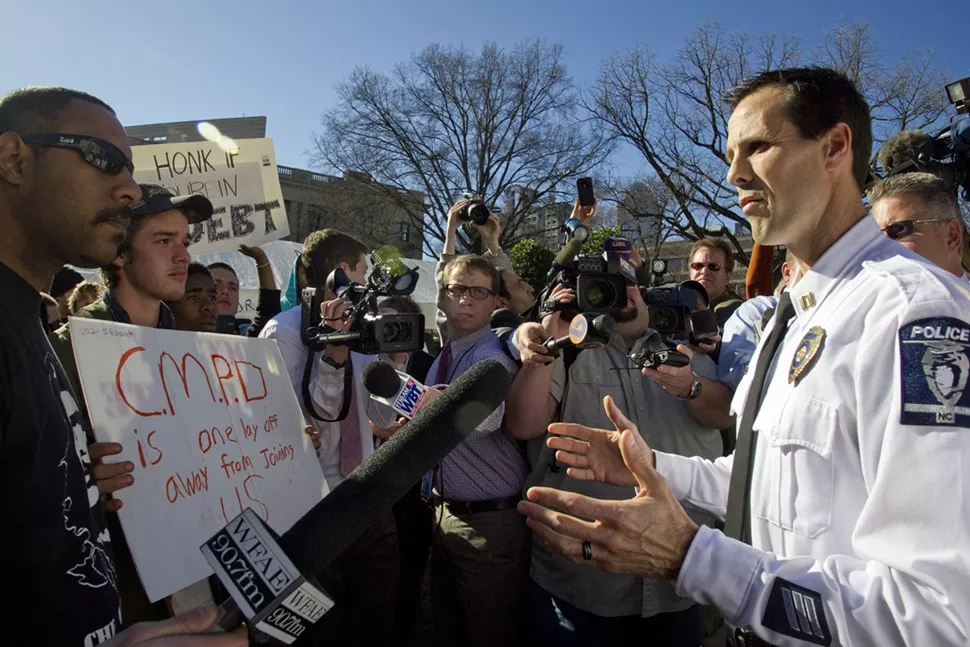 Right, CMPD Capt. Jeff Estes talks to occupier Ayende Alcala (left) in January.
"[Occupy Charlotte] made a decision to not challenge the new laws even if we disagreed with them," Laurel Green, a local artist and Occupy member, told me Friday morning. "We removed all personal belongings, didn't sleep [in our tents]. We focused on art-making as the voice of the people."
She said they used tents — covered with mesh — mostly for painting.
"There was no way I was planning on using that for sleeping in January," Green said.
None were more surprised by the verdict than the occupiers.
"We were concerned that the politics might intrude on our judicial system and that we would be found guilty," Green said. When they were found not guilty, "we were so overjoyed because ... we are people who are in the street, protesting injustice around us. To see a sign that there is still some justice in our country through the judicial system was really inspiring for all of us."
In fact, Charlotte Mecklenburg police involved in the incident wrote mostly positive things about occupiers.
"We did the same," Green said, referring to Occupy's court reports. "We had had a really good relationship with CMPD. We worked really hard to do that, and so have they."
She said throughout the trial it was clear that police had been working under vague, confusing rules handed to them by city council.
"The ordinances were so poorly written, and then the police department was tasked as enforcing these poorly written, difficult to understand ordinances," she said. "Everyone was getting mixed messages from city council an the city attorney. My perspective right away was that the mayor and the ten members of the Charlotte City Council had thrown police under the bus."
Neither the city nor CMPD attorneys returned messages left by Creative Loafing.
She said council members missed an opportunity to work with Occupy, which could affect how other activists coming to Charlotte for the Democratic National Convention perceive the city.
"I think that city council could have supported Occupy Charlotte, and that would have set us up to be very influential to people who are coming in from out of town to attend DNC protests," she said, adding that any sort of seemingly anti-activist ordinances could discourage people from exercising their First Amendment right to assemble.
"It creates a climate of fear," she said.
UPDATE: City attorney Bob Hageman issued this statement to council members and Mayor Anthony Foxx emphasizing that even though the three members were found guilty, the no-camping ordinance still stands.
It is important to recognize that nothing about Judge tot ten's ruling calls into question the validity of the 'no-camping' ordinance. In fact, as I previously reported to you, earlier this year Superior Court Judge Forrest Bridges denied Occupy Charlotte's attempt to enjoin enforcement of the ordinance. In doing so, Judge Bridges ruled that Occupy failed to establish the likelihood that it could succeed in proving the ordinance unconstitutional or otherwise invalid.
He added that another Occupy Charlotte member's conviction by another district court judge "demonstrates that the judiciary treats each case on its own merits and seemingly inconsistent decisions by juries and judges are not uncommon."