Editor's note: In this series, local author David Aaron Moore answers reader-submitted questions about unusual, noteworthy or historic people, places and things in Charlotte. Submit inquires to davidaaronmoore@post.com.
What are some of Charlotte's longest-operating nightclubs? - Michella Henry, Charlotte

In the industry, a nightclub is considered "successful" if it has about five years of patron-drawing potential and is still operating in the black. If it celebrates more than 10 years, it's verging on history making. Twenty, and it's prepping for some kind of long-term recognition award.
It's not a well-kept secret that clubs usually operate with some kind of theme or gimmick. But just like oxygen bars, "smart" drinks and club kids, trends become passé and audiences drift away. Usually the clubs that stick around have a strong, established support base from a niche market that doesn't have many nightlife alternatives.
To the extent of my knowledge, there are five that come to mind in Charlotte. Each has seen multiple generations pass through their doors.
From youngest to oldest, they are as follows:
The Double Door Inn
Initially touted as a "safe place for locals to hang out, have a drink and have a good time" the Double Door started in 1973 as a popular destination to listen to local bands, but quickly evolved into something much more with appearances by the American rock band the Dixie Dregs. As time passed and the old house-turned-club's focus evolved, musical acts like Roomful of Blues and The Thunderbirds pushed the sound du jour toward blues, with later performances by Stevie Ray Vaughn, Eric Clapton and the Drive-By Truckers. Now the Double Door, located at 1218 Charlottetowne Ave., features music by soul, jazz and funk artists.

The Milestone
It opened in 1969, but The Milestone saw its heyday during the late '70s and much of the '80s. An odd conglomeration of strung-together buildings, it's rough-and-tumble interior and exterior have served as an added bonus that no doubt attracted the blend of rock, goth and punk music fans to the club for so many years. It is known throughout the country as one of the places for the alternative music set to play. Among the massive list of notables to take to the stage are Nirvana, R.E.M., 10,000 Maniacs, Big Fish Ensemble, Ethyl Meatplow, The Go-Gos, Melissa Etheridge and Skinny Puppy. It is located at 3400 Tuckaseegee Road.
The Scorpio Lounge
The Scorpio Lounge has been one of the city's leading LGBT community venues. Originally opened in 1968, it did serve a gay and lesbian clientele almost exclusively for more than 30 years, though in more recent times it has diversified and is now a top destination among straight and gay partiers looking for a comfortable place with a hopping dance floor. As an added bonus, the often-busy nightspot boasts an immensely popular drag show, which regularly includes guest performances by cast members of Rupaul's Drag Race. Over the years the club has hosted internationally known singers and bands like Grace Jones, REM and Claudja Barry, among others. During a time when such a move was practically unheard of, former Mayor Harvey Gantt paid a visit to the bar in the early 1980s to talk with potential LGBT voters, where he even tripped the light fantastic with the late Charlotte drag diva Toni Lenoir. The Scorpio Lounge is located at 2301 Freedom Drive.
The Paper Doll Lounge
Although the Paper Doll has moved from one side of the street to another, it has been a Wilkinson Boulevard staple since 1964. Once known throughout Charlotte and the South as one of the leading adult-entertainment destinations for exotic dancing, in years past the club has welcomed legends of burlesque like Chesty Morgan and Morganna. Today, after close to 50 years in business, the private club largely hosts a bevy of relative unknown beauties, who offer conversation, companionship and stage and lap dances in a retro-styled atmosphere replete with a mix of light rock and dance music and plentiful cocktails. Still a favorite destination among conventioneers, the city's oldest strip club continues to pack in lusty hetero men at 3221 Wilkinson Blvd.
The Excelsior Club
During a time when restaurants, nightclubs and Charlotte neighborhoods were largely segregated, the historic Excelsior opened its doors in 1944. Over the years it has held afterparties and impromptu performances for and by historic R&B artists like James Brown, Nat King Cole, Sam Cooke and The O'Jays. Now 60 years old, the legendary Excelsior continues to attract regular crowds Tuesday through Saturday nights and is believed to be the one of the longest-operating nightclubs in American history. The building itself is also noteworthy for its unusual Art Moderne architectural style and the key role it played during the civil rights movement, where it served as a gathering place for African-American political leaders. Despite the club's longtime presence on the Charlotte social scene, a cast of regulars, new-comers and curiosity-seekers still make a path to 921 Beatties Ford Rd.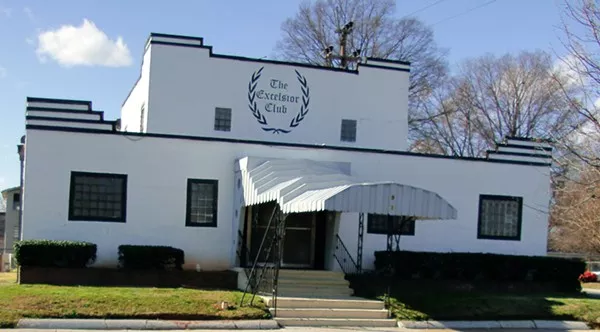 Moore is the author of Charlotte: Murder, Mystery and Mayhem. His writings have appeared in numerous publications throughout the U.S. and Canada.