Unlike some clothing retailers, the Cato Co., a Charlotte-based chain of over 1,300 women's clothing stores in 31 states, is trying to downplay its ties to the Rana Plaza factory complex in Bangladesh. The fire, the worst accident in garment-industry history, killed some 400 people last week.
Some large companies with ties to the factory, including British low-cost retailer Primark, Canadian discount chain Loblaw, and Spain's huge El Corte Ingles retailers, have pledged to take part in a compensation fund that the Clean Clothes Campaign, an anti-sweatshop group based in Holland, hopes to build to $30 million.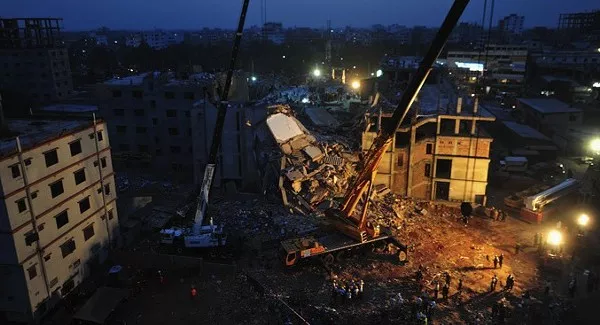 Reuters
The worst accident in garment-industry history killed some 400 people last week.
In addition, representatives of two dozen retailers and clothing brands, including Walmart, The Gap and others, met in Germany to discuss what they could do to improve factory safety in Bangladesh. Some companies, including the parent company of Calvin Klein and Tommy Hilfiger, have even agreed to help bankroll any needed fire safety or building improvements.
Cato, on the other hand, joined the group of retailers trying to run away from the Bangladeshi disaster as fast as they can. Cato admitted that it buys clothes from a vendor whose garments are made at the Rana Plaza factory complex, but quickly added, "we did not have any ongoing production at the time of the incident." Which is, of course, completely beside the point. Cato did regularly buy garments from the deadly, illegally built factory - in fact, as reported by the New York Times, Cato received more than 90,000 pounds of apparel from the factory since November 2012 - and thus contributed to the repugnant conditions that led to the disastrous April 29 accident.
Cato's flimsy look-away explanation is a real disappointment. At a time when a growing number of corporations are embracing - OK, are being successfully pressured to embrace - greater degrees of corporate social responsibility, whether legally required or not, Cato ducks its head and tries to dodge the whole thing.