Lovers of irreverence can rejoice greatly, for the potty-mouthed puppets of Avenue Q are bringing their song-and-angst routine to Theatre Charlotte. Recent college grad Princeton is the newest tenement tenant on this queer city block, wondering how he can parlay an English degree into a livelihood while instantly smitten - how could he not be? - by equally anxious and awkward Kate Monster.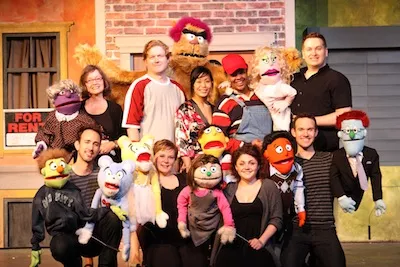 The song list is self-recommending to anyone who has ever suffered through the varnished truths of
Sesame Street
and
Mister Rogers
, including such hits as "It Sucks to Be Me," "Everyone's A Little Bit Racist," and the imperishable "The Internet Is for Porn." Blue-chipper Billy Ensley is directing a formidable cast that stars Andy Faulkenberry as Princeton and KC Roberge as Kate. Genders be damned, the supporting cast includes Matt Kenyon as Lucy the Slut and Veda Covington as Gary Coleman. Yes,
that
Gary Coleman. $25-$27. May 18, 8 p.m.; May 19, 2:30 p.m.; May 22-23, 7:30 p.m.; May 24, 7:30 p.m. & 11 p.m.; May 25, 8 p.m.; May 26, 2:30 p.m.; May 29-30, 7:30 p.m.; May 31, 8 p.m.; June 1, 8 p.m.; June 2, 2:30 p.m. Theatre Charlotte, 501 Queens Road. 704-376-3777. www.theatrecharlotte.org.