Zack Snyder seems like the kind of guy who likes to drop a bomb after he's already cleared the path with pure TNT.
Upon revealing to all of geekdom that, yes, the sequel to his Man of Steel blockbuster would feature our favorite bat-eared Dark Knight, he gave us something else at this year's San Diego Comic-Con. But he didn't do it with a simple announcement; he had actor Harry Lennix read the famous words found in these panels: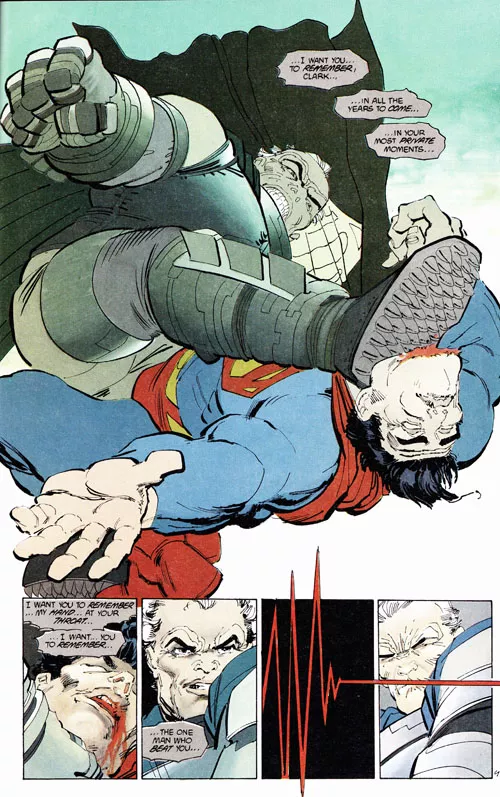 For any diehard Batfan, the revelation was nuclear. The page above can be found in The Dark Knight Returns, the '80s limited series written and drawn by Frank Miller. This was the Miller of three decades ago - younger, brilliant, less crazy. For many, it's a touchstone for one of comics' flagship heroes. It saw an older, broken Bruce Wayne taking the mantle once again for one last Batman tale. Of course, decades later, it had an abysmal sequel because nothing stays dead or sacred in our beloved medium.
Snyder revealed that his Superman follow-up will be at least partly inspired by this celebrated series. But how does that make sense? What does Henry Cavill's Superman, a rather green version of the Big Blue Boy, have to do with the gritty, aged version of the DC Comics world found in Miller's comic? The Dark Knight Returns took place decades and decades after the events of Man of Steel. What kind of cues could it take? After taking a look back at the comic series, it appears our only answer could be the essence of the Superman/Batman team. To reach this conclusion, we must first strip away the aspects of The Dark Knight Returns that won't make it to film.
Frankly, the ground covered in The Dark Knight Returns isn't exactly untouched. It's been mined extensively by none other than director Christopher Nolan in his Batman trilogy - Batman Begins, The Dark Knight and The Dark Knight Rises. Nolan, a producer on Man of Steel and executive producer of its sequel, is also an obvious fan of Miller's Batman: Year One, as the comic that features Bruce Wayne's first year as the Batman shares similarities to the beginning of Nolan's trio of films.
Countless scenes throughout Nolan's movies are callbacks to The Dark Knight Returns. A retired Bruce Wayne hobbles around and must make an embattled return to protect Gotham. An older cop tells a rookie he's "in for a show" upon Batman's resurgence (see the video below at 00.43). A seemingly dismal end comes with a wink. So what does that leave for the Man of Steel sequel?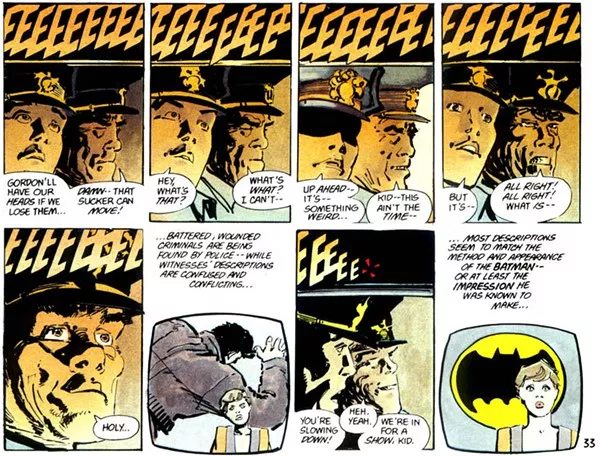 The obvious answer would be every scene in the Dark Knight Returns comic that features Superman. But it's not that simple. The Bruce Wayne and Clark Kent of Miller's world are both longtime allies and divided friends, separated over time by evolving ideologies. It's the absolute and unfailing loyalist in Superman that drives the wedge between him and Batman. It's that Superman would pledge his allegiance to a government that had grown stupid and corrupt.
It's not the Superman we found at the end of Man of Steel, who was just setting the terms of his role as Earth's protector with the U.S. This Superman was cautious but respectful, not the president's lapdog. So the Clark Kent of The Dark Knight Returns will likely not be the one in this upcoming Superman film. And unless things get really weird, it's doubtful that we'll see a middle-aged Caped Crusader, either.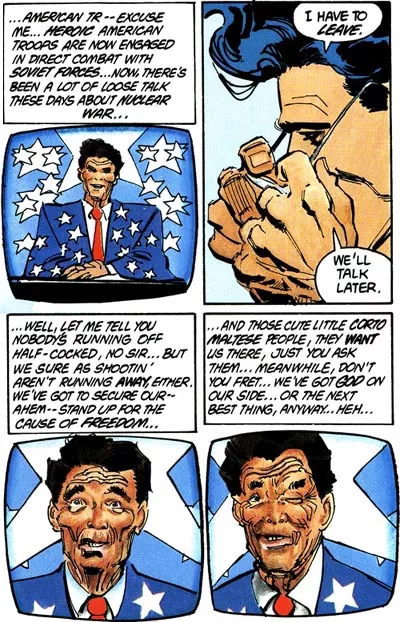 So it'll likely be the broad strokes of the duo in The Dark Knight Returns in this new film. Superman and Batman will engage in some combat. Their differing perspectives on fighting crime, as well as Wayne's expert brooding contrasting with Kent's Midwestern optimism, will provide a balanced look at heroism.
The film will probably reinforce a classic attribute of the Batman and Superman alliance: Despite Supes' godlike powers and invulnerability, Bats is the one human who may be able to best him. It's the aspect of the duo that most suspends disbelief, and simply, the only reason their relationship works. We need to believe that Bruce Wayne feels that way, and we have to at least think it's possible he's right.
And if anything, that's what those words mentioned read by Lennix at Comic-Con really mean.