It took three days for me to confirm why Nicia Carla, one of Charlotte's supreme comediennes, wasn't stealing scenes down at Actor's Theatre of Charlotte in the world premiere of Narrow Daylight, a wonderful vehicle for her in last year's nuVoices Festival. Turns out she was stealing groceries for her own little company's We Won't Pay! We Won't Pay! a high-energy Italian farce by Dario Fo that has waited nearly 40 years - for the right translation by Ron Jenkins and the right company - to make its Charlotte debut.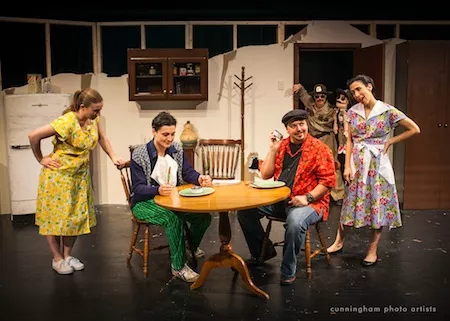 After watching Carla & Co. frolic about at Duke Energy Theater in this PaperHouse Theatre production, I'd say it was well worth the wait. Carla's role as Antonia has the tang of such vintage TV wives as Edith Bunker and Lucy Ricardo, crazily conniving to skirt the authority of their husbands. Looking at the volcanic outbursts of Robert Lee Simmons as Giovanni, I couldn't help hearing echoes of Ralph Kramden's famed expostulations, "To the moon, Alice!" or the more concise "Bang! Zoom!"
Simmons' performance notwithstanding - among the most bodacious of his high-energy career - Giovanni follows the Archie Bunker model more closely, blindly reactionary in his views and ruler of the roost. It's his radicalization that Fo wants us to follow once Antonia has breathlessly arrived home to her cheap apartment after participating in a spontaneous, populist riot at her neighborhood supermarket. Prices have skyrocketed overnight due to runaway inflation, and the riled housewives' response, as they first name their own prices and then set to looting, becomes the rallying cry that is Fo's title.
Antonia has basically stolen a haul of groceries that is roughly equivalent to a month's worth of shopping, to judge by the fact that she's way past due in paying the family's rent and utilities. In her haste, she has grabbed some stuff during the looting frenzy that wouldn't ordinarily be on her shopping list. So the farce actually veers off in two zany directions: Antonia must hide the great quantity of food she has hauled home, and she must explain the few odd items, like birdseed and frozen rabbit heads, that haven't escaped Giovanni's notice.
Called on to improvise as wildly as possible, Antonia is more like Lucy than Edith, and like Lucy, she has a confederate who is haplessly roped into her elaborate hide-the-groceries subterfuge. Poor Margherita. After getting caught sneaking out with a couple of grocery bags under her coat, she must suddenly pretend to Giovanni - and eventually her own husband Luigi - that she is pregnant and on the verge of delivering.
All of this is playing out while officers of the military and the police, alerted by the panic-stricken management of the supermarket, are conducting door-to-door searches, trying to root out the looters and bring them to justice. Giovanni, of course, is a thousand percent supportive of this righteous purge, ratcheting up Antonia's panic mode. Not quite as grim is the poverty and hunger of these Italians, for Fo doesn't make birdseed soup quite as poignant as Charlie Chaplain's legendary spaghetti shoelaces.
James Yost, founder of BareBones Theatre Group during another century, warms readily to PaperHouse's guerilla aesthetic, directing at a blistering pace in his return to Charlotte, never sparing the comedy condiments. Against the titanic foreground of Simmons and Carla, there is relative restraint and decorum from their spouses. Farrell Paules is only mildly over-the-top as Margherita, which plays like subtlety in this ensemble, while Adam Griffin, like his previous key roles in The Graduate and Who's Afraid of Virginia Woolf? proves to be a perfect passenger for getting taken for a ride.
Personifying the military state all by herself (and the subject of Giovanni's funniest thrust through the fourth wall), Andrea King refuses to be confined, like Simmons or Carla, to Italy in her gallery of accents. King's most bizarre invasion sees her multiplying herself by wielding a matching puppet - with notably undeveloped ventriloquism skills. Yet Simmons remains the chief astonishment. We weren't notified until after the show that we had been sitting in a splash zone. A couple of reasons for this zoning had become obvious: Margherita's "water" breaks fairly close to the downstage, and Simmons, no matter where he is, gushes streams of sweat from his first ranting scene onwards. His Kramden Marinara is a wonder to behold.