With Gov. Pat McCrory in power until 2016, the state's legislative districts hopelessly gerrymandered in the GOP's favor, and the North Carolina Democratic Party a dysfunctional, almost irrelevant, organization, any hope for Tar Heel progressives to regain control will be to start over - and to start small.
On Wednesday, several young progressive leaders launched Upward South, a political action committee dedicated to electing "forward-thinking public servants," all under 40, at local levels.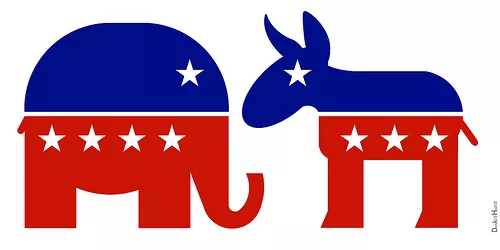 DonkeyHotey (Flickr Creative Commons)
"We're going to only focus on municipal and county-level races to really try to build a pipeline of leaders, who in five or 10 years can run for state House or state Senate," said Upward South Director Evan Degnan.
Upward South is essentially version 2.0 of Grassroots Farm Team, a group founded in 2009 that endorsed a dozen candidates in statewide races, including soil and water commission and the Senate.
Inspiration for the new mission came from an unlikely place.
"We're taking a page from the conservative playbook," Degnan said, "to really invest in school board races and campaigns for sheriff."
Contrary to what some news outlets might report, the conservative takeover of North Carolina didn't happen overnight. It was built upon decades of small victories in small towns, where NRA members and Christian fundamentalists started running for sheriff, county commissioner and school board seats.
Upward South will start endorsing in just a few months and will determine its candiates based on answers to a questionnaire, which was already mailed, followed by an interview. Final decisions are made by the organization's steering committee and board of directors, which includes Raleigh attorney Matt Calabria, Chapel Hill Councilman Lee Storrow and former College Democrats of America National President Tori Taylor.
It will eventually endorse candidates throughout the South (hence its name).
"What we're looking for first are viable candidates, people who are serious about the races they're in, and are in it to win it," Degnan said.