Serena Ryder
Uptown Amphitheatre
Aug. 16, 2013
If you blinked, you might have missed her. If you were paying attention, you likely soaked up every pop/soul/rock moment. Serena Ryder only had a brief window to help warm up the crowd, but she cruised through her 20-minute opening set with strength and poise in front of a still-filing-in crowd at the Uptown Amphitheatre on Aug. 16.
Most people in attendance were likely looking forward to headliner OneRepublic, or the second opener Mayer Hawthorne, but by the time Ryder was finished with her fifth and final song, a good number of fans were headed toward the merch tent to meet the Canadian singer.
Ryder hit the stage with an acoustic guitar and a drummer playing a cocktail kit as she rifled through a handful of songs from her new album, Harmony, which hits stores on Aug. 27.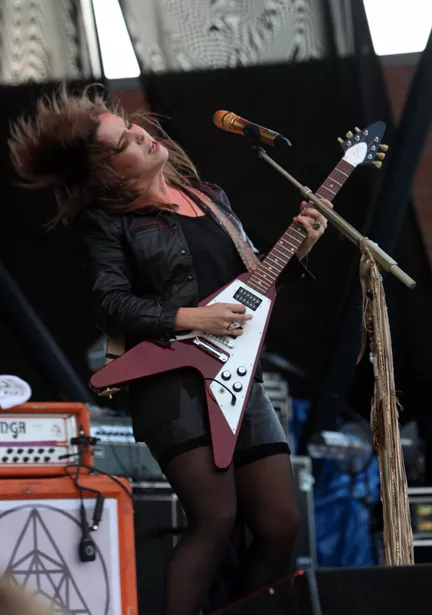 While the first two songs, "Heavy Love" and "Call Me," were basically a warm up for Ryder as well, she hit her stride after picking up an electric guitar for the album's first single "Stompa." Ryder's vocals showed range and plenty of soul as she belted out the song's final verse, shaking her hair and stomping her feet.
It's been a few years since the Juno award-winning artist was in the Queen City. The 30-year-old singer has had plenty of success in her native country, but has struggled to gain solid footing in the States. Her new album could be the key. Her vocal strength is the lynchpin in her songwriting - often singing about love like so many artists do, but her music transcends genre lines hitting on pop, soul, blues and rock and even hints of country at times.
Ryder followed up "Stompa" with the country-folk tinged "Mary Go Round," before closing out with "What I Wouldn't Do." It was a quick showcase of her range as an artist and the perfect primer for people who haven't heard her before.
Setlist
Heavy Love
Call Me
Stompa
Mary Go Round
What I Wouldn't Do