With Journey Into Mystery #655, this week's "Title You Can't Miss," Marvel once again kills a series that has been off and on since 1952 (in one form or another).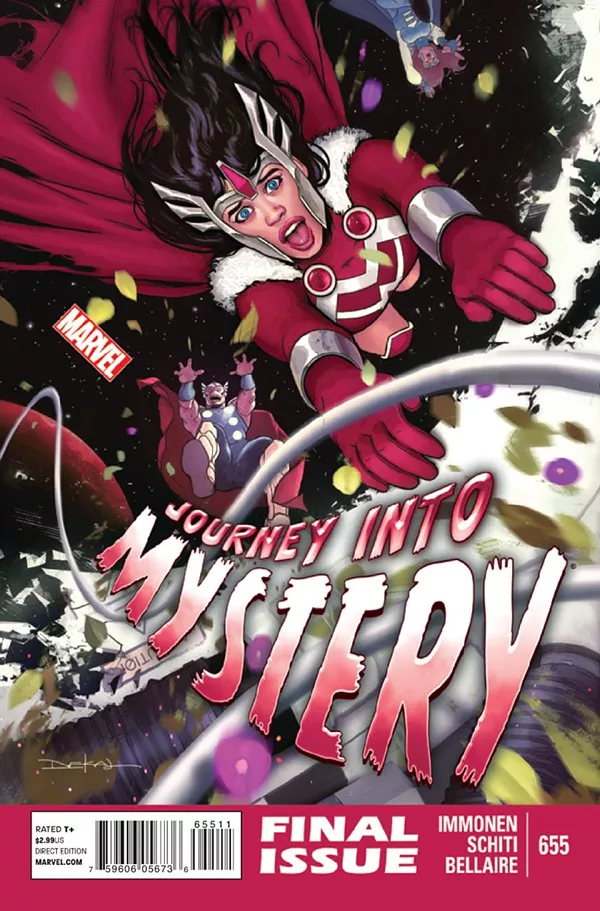 It was first a horror anthology, and then it moved on to science-fiction. But then Stan Lee and the gang decided to try out a new superhero for the book: Thor, the Norse God of Thunder.
It stuck, as the series continued to run, occasionally being named for the hammer-wielding protagonist for hundreds of issues and then back and forth for one reason or another. Its most recent recharge was its third revival, in which a new Thor title branched off and Journey Into Mystery kept the number of #622 and beyond. Focusing on Thor's supporting cast, including a re-imagined Loki, Kieron Gillen was able to work some magic with an engrossing series that was touted, yet criminally undersold.
Scribe Kathryn Immonen and artist Valerio Schiti then took over the book with a new edge courtesy of Marvel NOW rebranding, pushing Lady Sif to the front as its protagonist. Though the series has enjoyed a following, Marvel decided to ax the tale. Immonen announced it on her Tumblr in June. Some point to a female-centric comic as being a reason for its lack of staying power; others think it's a case of bad timing with Marvel's revamps.
Either way, it's always sad to see a solid series go.
So pick it up, because who knows when it'll be back? And don't forget the dozens of other titles that come out this week.
DC Comics
ABSOLUTE SUPERMAN BATMAN HC VOL 01
ADVENTURES OF SUPERMAN #4
ALL STAR WESTERN #23
AMERICAN VAMPIRE ANTHOLOGY #1
AQUAMAN #23
BATMAN INCORPORATED SPECIAL #1
BATMAN SUPERMAN #3
BATMAN THE DARK KNIGHT #23
CATWOMAN #23
FABLES DELUXE EDITION HC VOL 07
FBP FEDERAL BUREAU OF PHYSICS #2
FLASH #23
GREEN TEAM TEEN TRILLIONAIRES #4
HELLBLAZER TP VOL 06
INJUSTICE GODS AMONG US #8
JACK KIRBYS OMAC ONE MAN ARMY CORPS TP
JUSTICE LEAGUE #23
LARFLEEZE #3
LEAGUE OF EXTRAORDINARY GENTLEMEN OMNIBUS TP
LEGION LOST TP VOL 2 THE CULLING
MAD MAGAZINE #523
RED LANTERNS #23
SANDMAN OMNIBUS HC VOL 01
SUPERMAN #23
SWORD OF SORCERY TP VOL 01 AMETHYST
TALON #11
TALON TP VOL 01 SCOURGE OF THE OWLS
TEEN TITANS #23
TOM STRONG AND THE PLANET OF PERIL #2
UNWRITTEN #52
WAKE #1 DIRECTORS CUT
Marvel Comics
A PLUS X #11
AMAZING SPIDER-MAN #700
AMAZING SPIDER-MAN OMNIBUS HC VOL 01
ASTONISHING X-MEN #66
AVENGERS ARENA #14
CAPTAIN AMERICA #10
CAPTAIN MARVEL #15
DAREDEVIL BY MARK WAID TP VOL 04
DEADPOOL #15
FF #11
FURY MAX TP VOL 02 MY WAR GONE BY
GAMBIT #16
GUARDIANS OF GALAXY PREM HC VOL 01 COSMIC AVENGERS
JOURNEY INTO MYSTERY #655
MMW FANTASTIC FOUR HC VOL 15
MMW INCREDIBLE HULK TP VOL 03
NEW AVENGERS #9
ROCKET RACCOON TP TALES FROM HALF WORLD
SCARLET SPIDER #21
SECRET AVENGERS #8
SECRET AVENGERS TP VOL 01 REVERIE TP
THANOS RISING #5
THOR GOD OF THUNDER #12
ULTIMATE COMICS SPIDER-MAN #26
UNCANNY AVENGERS #11
UNCANNY X-MEN #11
WOLVERINE AND X-MEN #35
WOLVERINE MAX #10
X-MEN LEGACY TP VOL 02 INVASIVE EXOTICS
X-MEN MAGIK TP STORM AND ILLYANA
YOUNG AVENGERS #9
YOUNG AVENGERS TP VOL 01 STYLE SUBSTANCE
Dark Horse Comics
ANGEL & FAITH #25
CAPTAIN MIDNIGHT #2
CRIME DOES NOT PAY ARCHIVES HC VOL 05
ITTY BITTY HELLBOY #1
KING CONAN HOUR O/T DRAGON #4
MASS EFFECT FOUNDATION #2
MASSIVE #15
MIND MGMT #14
NUMBER 13 TP
SAVAGE SWORD OF CONAN TP VOL 14
STAR WARS LEGACY II
STATION TO STATION ONE SHOT
IDW Publishing
100 PENNY PRESS TMNT #1
DOCTOR WHO PRISONERS OF TIME #8
GI JOE #7
GI JOE A REAL AMERICAN HERO #193
GODZILLA RULERS OF THE EARTH #3
JERICHO SEASON 4 #4
JUDGE DREDD CLASSICS #2
KILL SHAKESPEARE TIDE OF BLOOD #5
LOAC ESSENTIALS HC VOL 03 POLLY AND HER PALS 1933
MY LITTLE PONY FRIENDSHIP IS MAGIC #10
RIP KIRBY HC VOL 06
SAM KIETH SAMPLINGS & DABBLINGS SC
STEVE DITKO MONSTERS HC VOL 02 KONGA
THUMBPRINT BY JOE HILL #3
TMNT ANIMATED TP VOL 02 NEVER SAY XEVER / GAUNTLET
TMNT ONGOING #25
TRANSFORMERS CLASSICS TP VOL 05
TRANSFORMERS MORE THAN MEETS EYE #20
TRANSFORMERS PRIME BEAST HUNTERS #4
TRANSFORMERS REGENERATION ONE #94
VISUAL FUNK JIM MAHFOOD ART HC
Image Comics
LAZARUS #3
MIND THE GAP #13
MORNING GLORIES #30
PROGENY TP VOL 01
SECRET #3
SEX #6
SKULLKICKERS #24
SPAWN DARK AGES COMPLETE COLL HC
SPAWN ORIGINS HC VOL 09
SUPER DINOSAUR #20
THINK TANK #9