If you were lucky and had a precious 30 minutes to spare over the weekend, you didn't miss Hank West in his Children's Theatre of Charlotte debut, Balloonacy. Amid screams of anklebiter delight, West was a grumpy old man who was befriended by a persistent and petulant balloon that insisted on floating through his apartment window. West never said a word as he befriended the airhead, taught it to share his newspaper, quarreled, and reconciled. Portraying his helpful neighbor at discreet intervals, Veda Covington did all the talking.
The inflated plastic gradually took on true personality as West drew eyes, mouth, and - for seemingly no better reason than the cute little pest sitting in front of us demanding it - a nose. Without words, West managed to interact delightfully with the roomful of youngsters at Wells Fargo Playhouse, particularly when the puckish balloon played peek-a-boo at the window.
If you missed the Balloonacy premiere, keep your eyes peeled for a revival - and hopefully for more Hank at ImaginOn.
Perpetrated by Daniel Clarkson and Jefferson Turner, Potted Potter is currently compressing J.K. Rowling's seven Harry Potter books to 75 minutes at McGlohon Theater through Sunday - more or less. Clarkson's antics and ad-libs were consistently hilarious as he transformed himself into innumerable Potter friends, allies, and nemeses, but the special highlight was surely in the grand audience-participation climax when he led the house in a rollicking quidditch match, Gryffindors vs. Slytherins. Turner was mostly relegated to portraying the relentlessly tedious Potter throughout the evening, but in the quidditch match, he blossoms memorably into the Golden Snitch.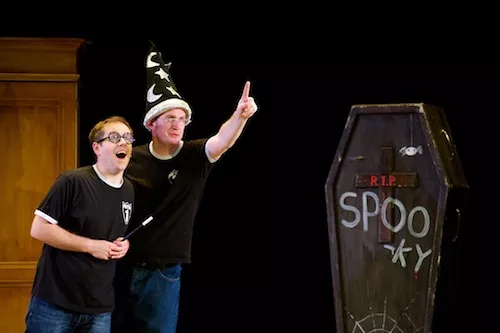 Brian Friedman
Jefferson Turner and Daniel Clarkson in Potted Potter.
The condensation is in the daffy Reduced Shakespeare spirit with Clarkson playing the dimwit and Turner emerging as the great sage who has actually read the Potter saga. But what were these co-writers thinking when they tackled the last Deathly Hollows book? They tease us throughout the fast-moving evening, dispatching Dan behind the shabby scenery to read the massive doorstop, only to come up with a silly incomprehensible song to close the show. Very enjoyable, but anticlimactic.
I'm not sure whether it's even possible to buy a ticket to the Othello presented by the five Actors from the London Stage at UNC Charlotte through Saturday, but if the remaining shows haven't sold out, snag one. All five perform multiple roles with minimum props and no scenery. So the mere necessity of changing roles within scenes injects some comedy that you won't find on the pages of Shakespeare's classic tragedy of malevolent manipulation and monstrous jealousy.
But the unavoidable breaks in the usually relentless tensions of Othello melt away as we watch Jude Akuwudike delivering the disintegration of the tragic hero. Granting all that I've seen added to the power of the story by various designers whose work I've enjoyed onstage and in film, I'll merely say that I've never heard a better Othello than Akuwudike's. His grasp of the whole arc becomes especially potent at "journey's end" in the unforgettable bedroom scene. Adding more layers of poignancy at this supreme denouement are the spirited innocence of Alinka Wright as Desdemona and the righteous rage of Jan Shepherd as Emilia.
I wish I could be equally enthusiastic about Richard Neale's Iago, Othello's devilishly vengeful lieutenant, but too many of his long speeches were hurried and garbled, though he never misread the swaggering, arrogant tone. Jack Whitam rounds out the exemplary cast, doing his best work as Brabantio, Desdemona's affronted father, and Cassio, the cavalier who enflames Othello's jealousy. If you've never seen The Moor of Venice performed live, this artfully tapered version is a wonderful intro.
Editor's Note: Due to some miscommunication, we erroneously published a review of a webcast of Dracula Bites. Creative Loafing is not in the habit of reviewing webcasts of local theater performances and we apologize for the inclusion.