Whether it was the spectacle of a live auction of paintings by Lee Baumgarten and Duy Huynh or the prospect of adjourning to one of Moving Poets' notorious latenight parties at the Hart-Witzen Gallery, Saturday night turned out to be the hippest night to attend Moving Poets' Re[Loaded]. Booth Playhouse was filled to near-capacity with people eager to celebrate the Poets' return, people eager to discover what the storied multi-disciplinary company is all about, and a mix of theater, dance, and visual artists who feel embraced by the Poets' all-embracing vision.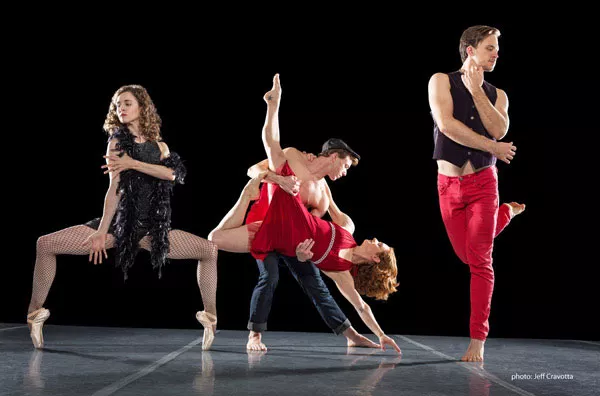 As Poets groupies would already presume, the paintings by Baumgarten and Huynh were painted on the fly, part of the spectacle of music, theatre, and dance brewed by company founder Till Schmidt-Rimpler. Opening their Re[Loaded] with "Contact," Schmidt-Rimpler was hearkening back to the beginnings of Moving Poets Theatre of Dance in the 1997-98 season while heralding the launch of the new Moving Poets Charlotte outpost for a company whose main HQ will remain in Berlin.
After alternating the previous three performances, Baumgarten and Huynh appeared together for this final performance, heightening the heady mix of art forms - and the sensory overload. Robert Lee Simmons declaimed the texts by Oscar Wilde with enough over-the-top flimflam to keep us guessing whether he was totally posturing with his provocative assertions or perhaps partially serious. He didn't glide in on a scooter during any of his three segments as Randell Haynes did in 1998, but similar absurdity was achieved in his middle segment when Simmons delivered his manifestoes while bouncing on a little trampoline.
Meanwhile, the six dancers grooved to a score that was mostly Mozart and Chopin, blithely demonstrating Wilde's dictum that art only expresses itself. Among them, the only dancer I remembered from the old days was Sarah Emery, whose links to Moving Poets stretch back to 1999 and her starring role as Marie in Murder Woyzeck. Now she is the Moving Poets Charlotte artistic director, and her first major piece for the company, "Three," proves she belongs.
Live music by Blake Barnes on handpan and Brenda Gambill on violin (composed by Gambill and Gina Stewart) extended slightly beyond what I remembered as the Poets' classical comfort zone. "Three" props were also comparatively mundane and contemporary, including a briefcase, an umbrella, a newspaper, a serving plate, and some chairs. Emery not only choreographed, she conceived the text, executed by Katherine Goforth in a style that could serve as the possible result if Gertrude Stein or David Mamet had written a monologue attempting to retell a nostalgic love story by F. Scott Fitzgerald.
Reminiscing about the woman who was the life of the Blooming Rose Cabaret, Billy Ensley as our Emcee could be likened to a tongue-tied mid-life Frank Sinatra, clearly belonging to the cool club scene yet also awestruck and nostalgic about his past experiences there. Amid the seven dancers who evoked the Blooming Rose, Emery and Javier Gonzalez danced the lead couple, capturing the sinuous, sensuous drive of the choreography.
Emery's "Three" merited its place at the end of the program, a tough act to follow, but on closing night, they shuffled the order and ran Schmidt-Rimpler's "The Left Foot Smile" last. The choreographer himself appeared onstage as the piece reached its celebratory climax, a coda that hadn't been applied to previous performances - reasonably justifying its elevated place in the program. As the title implied, this was a sunnier piece than we usually saw from the saturnine and macabre Schmidt-Rimpler in the old days. Perhaps he needs a few more doses of Charlotte to regain the former darkness of his vision!
The piece began with a spinning sculpture by the scientifically puckish Kit Kube - basically, a glorified manhole cover spinning on end in a spotlight of shifting primary colors until it finally clattered to the ground. Eight dancers in alarmingly cheery pastel casual outfits began circling around a circle of chairs, giving rise to the fear that Schmidt-Rimpler had been possessed by the wholesome spirit of Paul Taylor. Happily, the dance became appreciably sillier after that, with an outbreak of zombie tremors that offered ample testimony that S-R and Moving Poets hadn't forgotten their roots. Welcome back!
Between the Moving Poets dance presentation Saturday night and the Moving Poets aftershow party up in NoDa, Sue and I caught Act 2 of Stephen Seay Productions' History Isn't a Drag revue at UpStage. Missing the first half of the show that had started at 10 p.m., we arrived during the intermission, which was a good way to burn some hearing and ream our eardrums! I quickly despaired of being able to introduce myself to the women who were sharing our table, settling in and hoping the decibel level would relent when the show resumed.
Luckily, it did. Rachael Houdek resumed custody of the hand mike and emceeing chores as Seay took charge of lights and sound. History turned out to be a cavalcade of famous historical women, with irreverent homages served up to each by lip-synching drag queens. Costuming and shimmying counted more than concept as the audience showed their approval via the traditional medium - dollar bills tossed onstage or aggressively thrust into faux cleavage.
By this measure, Rosey the Riveter singing "Hard for the Money" and Pocahontas performing a supremely autumnal "Colors of the Wind" admirably fit the stringent requirements for these museum pieces. Lesser showers of cash greeted tragic astronaut Christa McAuliffe and the great Southwestern painter Georgia O'Keefe, probably because of their comparatively drab costumes - the fixation on the labia of O'Keefe's famed flower paintings, in particular, could have been a money-maker with a little pizzazz. I think I caught the word "pussy" in there once or twice, but the audience didn't purr.
Thankfully, a resplendently bewigged, garishly red-white-and-blue Marie Antoinette restored the appropriate rowdiness in the finale. You can easily imagine her main theme, served up on a platter.