This week, we're giving thanks for our friends, family and slew of new comics. The holidays are some of the best times to read funnybooks, whether you need a brief escape from family time or an easy task for a full stomach.
This week's Title You Can't Miss is not a single issue, but a graphic novel - specifically, a third volume for a series that ended too soon. When Gambit was relaunched last year, longtime X-fans rejoiced. Scribe and comedian James Asmus was set to return the famous mutant thief to his roots. And though the story wasn't as grounded as, say, Hawkeye, it saw Remy LeBeau pulling heists again, even though dragons and god-monsters also made an appearance.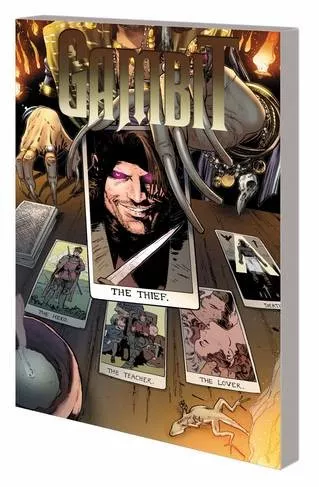 Gambit is such a special character for so many readers, it's surprising that Marvel has never cracked an ongoing series that satisfied them. This Gambit series capped off at 17 issues (which is where this trade takes readers), and that's the second-longest Gambit series ever, right under the 1999-2001 series that ran 25 issues and ahead of the 2004 one that stopped at #12.
This series, with fantastic renderings by Clay Mann, seemed to be going places. It had its flaws, but the creative team's plans to have Gambit eventually put together a heist team to travel the Marvel Universe would have made it one of the most interesting books of 2014. So check out this third volume, and the two before it, and join the outcry at its cancellation.
DC Comics
100 BULLETS HC BOOK 05
ADVENTURES OF SUPERMAN #7
ALL STAR WESTERN #25
AQUAMAN #25
BATMAN & ROBIN HC VOL 03 DEATH OF THE FAMILY
BATMAN & ROBIN TP VOL 02 PEARL
BATMAN INCORPORATED HC VOL 02 GOTHAMS MOST WANTED
BATMAN INCORPORATED VOL 01 DEMON STAR
BATMAN THE DARK KNIGHT #25
BEWARE THE BATMAN #2
CATWOMAN #25 (ZERO YEAR)
DAMIAN SON OF BATMAN #2
FLASH #25 (ZERO YEAR)
FOREVER EVIL ARGUS #2
GREEN ARROW TP VOL 01 HUNTERS MOON
GREEN TEAM TEEN TRILLIONAIRES #6
INJUSTICE GODS AMONG US #11
JOKER CLOWN PRINCE OF CRIME TP
JUSTICE LEAGUE DARK #25 (EVIL)
LARFLEEZE #5
LOIS LANE A CELEBRATION OF 75 YEARS HC
RED HOOD AND THE OUTLAWS TP VOL 03 DEATH OF FAMILY
RED LANTERNS #25
SANDMAN OVERTURE #1 SPECIAL EDITION
SUPERMAN #25
SUPERMAN A CELEBRATION OF 75 YEARS HC
SUPERMAN HEL ON EARTH HC
TALON #13
TEEN TITANS #25 (EVIL)
TOM STRONG AND THE PLANET OF PERIL #5
VERTIGO ESSENTIALS Y THE LAST MAN #1
Marvel Comics
ALL NEW X-MEN #19
AVENGERS ARENA #18
AVENGERS ASSEMBLE #21 INF
AVENGERS TP BOOK 01 ABSOLUTE VISION
CAPTAIN AMERICA PREM HC VOL 02 CASTAWAY DIMENSION Z BK 2
CATACLYSM ULTIMATE X-MEN #1
DEADPOOL ANNUAL #1
FF #14
GAMBIT TP VOL 03 KING OF THIEVES
HAWKEYE #14
INDESTRUCTIBLE HULK #16
INFINITY #6
INFINITY HEIST #3
INFINITY HUNT #4 INF
KICK-ASS 3 #5
MARVEL UNIVERSE ULTIMATE SPIDER-MAN #20 SYU
MMW ANT-MAN GIANT-MAN TP VOL 01
MORBIUS LIVING VAMPIRE TP MAN CALLED MORBIUS
NEW AVENGERS #12 INF
NOVA #10 INF
POWERS BUREAU #8
SAVAGE WOLVERINE #12
SCARLET SPIDER #24
SHADOW WALK PREM HC
SPIDER-MAN AND WOLVERINE BY WELLS AND MADUREIRA HC
SPIDER-MAN BIG TIME TP VOL 02 COMPLETE COLLECTION
SPIDER-MAN MARK OF TARANTULA TP
SUPERIOR CARNAGE #5
SUPERIOR SPIDER-MAN #22
SUPERIOR SPIDER-MAN TP VOL 03 NO ESCAPE
UNCANNY AVENGERS #14
UNCANNY X-FORCE #14
WOLVERINE AND X-MEN #38
WOLVERINE AND X-MEN ANNUAL #1 INF
Dark Horse Comics
1 FOR $1 ABE SAPIEN #1
1 FOR $1 THE VICTORIES #1
BEST OF COMIX BOOK WHEN MARVEL WENT UNDERGROUND HC
BPRD VAMPIRE TP
BROTHERS OF THE SPEAR ARCHIVES HC VOL 03
CAPTAIN MIDNIGHT #5
CAPTAIN MIDNIGHT ARCHIVES HC VOL 01 BATTLES THE NAZIS
CLASSIC MARVEL CHARACTERS X-MEN #3 MARVEL GIRL
CONAN PEOPLE O/T BLACK CIRCLE #2
CRIME DOES NOT PAY ARCHIVES HC VOL 06
CRIMINAL MACABRE EYES OF FRANKENSTEIN #3
GOON #44
GRENDEL OMNIBUS TP VOL 04 PRIME
HOUSE OF GOLD & BONES TP
ITTY BITTY HELLBOY #4
MASS EFFECT 18 IN NORMANDY SR-2 SHIP REPLICA
MASS EFFECT FOUNDATION #5
MASSIVE #17
MIND MGMT #17
MISTER X EVICTION TP
NEVER ENDING #1
NEXUS OMNIBUS TP VOL 04
POLAR CAME FROM THE COLD HC
ROBERT E HOWARDS SAVAGE SWORD #6
SIGNAL TO NOISE HC
SLEDGEHAMMER 44 LIGHTNING WAR #1
STAR WARS LEGACY II #9
IDW Publishing
DANGER GIRL THE CHASE #3
DOCTOR WHO VOL 3 #15
GHOSTBUSTERS #10
GI JOE SPECIAL MISSIONS #9
GODZILLA RULERS OF THE EARTH #6
HALF PAST DANGER #6
JUDGE DREDD #13
MAXX MAXXIMIZED #1
MR PEABODY & SHERMAN #1
POWERPUFF GIRLS #3
STAR TREK ONGOING #27
THUNDER AGENTS #4
TMNT CLASSICS TP VOL 07
TMNT ONGOING #28
TRANSFORMERS IDW COLLECTION HC VOL 01 RED LABEL ED
TRANSFORMERS PRIME BEAST HUNTERS TP DIGEST VOL 01
TRANSFORMERS REGENERATION ONE #96
TRANSFORMERS ROBOTS IN DISGUISE #23 DARK CYBERTRON PART 3
X-FILES SEASON 10 #6
ZOMBIE WAR #2
Image Comics
APHRODITE IX #6
APHRODITE IX #6 CVR B
ARTIFACTS #32
BAD DOG #5
BEDLAM #10
BLACK SCIENCE #1 CVR A SCALERA & WHITE
BLACK SCIENCE #1 CVR B ROBINSON
CLONE TP VOL 02
FIVE GHOSTS #7
HOAX HUNTERS #12
MORNING GLORIES #35
PRETTY DEADLY #1 2ND PTG
PRETTY DEADLY #2
RAT QUEENS #2 2ND PTG
RAT QUEENS #3 CVR A
RAT QUEENS #3 CVR B
REVIVAL #15
SAGA #16
SEX CRIMINALS #1 3RD PTG
SEX CRIMINALS #2 2ND PTG
SEX TP VOL 01 SUMMER OF HARD
SIDEKICK #4 CVR A MANDRAKE & HIFI
SIDEKICK #4 CVR B URUSOV
SPAWN ORIGINS DLX ED HC VOL 04
THIEF OF THIEVES #18
WALKING DEAD #117