If you're a regular book buyer, you know that hardback books you'd have once paid $10-$15 for are now retailing for nearly $40 and up - one reason that library waiting lists are sometimes 50-or-more deep for the most popular new titles. There's another way to go, if you have patience. Wait till a book is published in paperback, which usually takes eight months to a year after the hardback edition.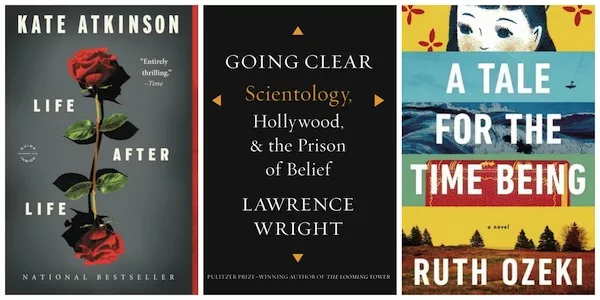 Some of the most acclaimed books of the past year are now on the shelves in paperback, for about half the hardback price, so it's a good time to catch up. Here's a look at some books that were critically praised to high heaven in 2013 and are now available for less.
Life After Life by Kate Atkinson (Back Bay, $18). A light doorstop of a novel, if that's possible. Increasingly popular British novelist Kate Atkinson works from the premise that Ursula Todd, born in 1910, dies and is reborn again and again to the same family, trying to get life "right." In the process, the author follows the turbulent history of Europe in the 20th century, evincing deep empathy for her characters and their interior lives while they carry on through two world wars. A long novel that's simultaneously deep and stylistically breezy, Life After Life was critically lauded worldwide despite the jarring dislocations of the book's structure.
Going Clear: Scientology, Hollywood and the Prison of Belief by Lawrence Wright (Vintage, $15.95). A National Book Award finalist by a New Yorker writer who, through meticulous research, straightforward reporting and guts, blows the lid off the inner workings of the secretive pseudo-church founded by sci-fi writer L. Ron Hubbard. Decades of growing membership, wealth and thuggish intimidation of Scientology backsliders by underlings of Hubbard's successor, David Miscavige - not to mention the cult's ludicrous, sci-fi-based beliefs - are brought out into the light of day.
Tenth of December by George Saunders (Random House, $15). Former "cult favorite" writer and 2006 MacArthur "Genius Grant" winner George Saunders has been taking stock of the national soul since 1996 in his collections of quirky short stories. Saunders is serious but playful, melding sharp observation, melancholy, surrealism, sobering satire and a gift for everyday language with a forgiving brand of cosmic humor. The good news is that Saunders just keeps getting better and is finally attracting a wider audience. It's rare that excellent authors who primarily write short stories get their full critical due, (Flannery O'Connor notwithstanding), but now that Alice Munro, who wrote short stories exclusively for the past 40 years, has won the Nobel, it can't help but raise the profile of other short story masters like Saunders.
A Tale for the Time Being by Ruth Ozeki (Penguin, $16). Ruth Ozeki is a painstaking and daring writer, as seen in her previous novels My Year of Meats and All Over Creation. Neither of those books, however, prepared readers for the riveting, complex narrative of A Tale for the Time Being. Ruth, a writer on the British Columbia coast, suffers from writer's block till she finds a Hello Kitty lunchbox on the beach containing a journal and letters from Nao, a Japanese teenager who may have died in the 2011 Japanese tsunami. Ruth is captivated by Nao's life story and her tales of various kin past and present, and the book veers back and forth from one story to the other, from America to Asia, taking on a number of conundrums, issues, explanations and views of life. Critics said the book can be harrowing and at times too detailed in its use of David Foster Wallace-like footnotes, but most also said the narrative is fascinating enough to make readers hang in there.