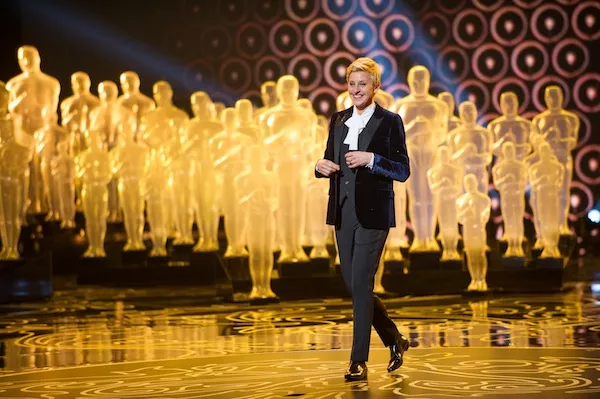 Ellen DeGeneres at the Oscars
So much for this being the most unpredictable Oscar race in years.
Reflecting on the world of Oscar prognosticators at large, four of us in our personal Oscar pool (including me) went a whopping 20 out of 21 in our picks ... and still lost to the one guy who nailed 'em all.
Likewise, in CL's own Beat Matt Oscar Contest, many folks got 7 out of 8 right - admirable, but not good enough to be eligible for the prize of 10 passes to Cinebarre. Only three people went 8-for-8 (besting my end result of 7-for-8), and since none nailed the tiebreaker question of how many Oscars would Gravity win (one person guessed eight, two people guessed six; the correct answer was seven), a random drawing from the last three standing revealed the winner to be Javier Gonzalez.
So congrats to Mr. Gonzalez, and thanks to everyone who entered.
(Note: This contest was neither authorized nor endorsed by the Academy of Motion Pictures Arts and Sciences.)