The time has long since passed when every aspiring diva was singing "Don't Cry for Me, Argentina" and striving for its singular mix of self-absorption and sincerity. Sixes, sevens, and nines were strewn across the pop landscape like dog doo on a slum street. Outside of Evita, I've yet to hear anybody say, "Don't keep your distance," so I'm perpetually puzzled by the adoration this Andrew Lloyd Webber musical sparks - despite its clunky lyrics and musical motifs that so radically clash with dramatic mood.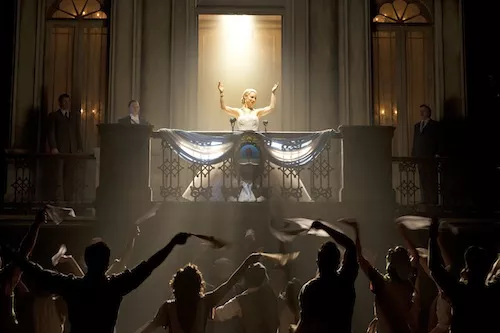 Yet we cannot underestimate the power of that diva impulse. Every time I've seen Evita, one or more of the major players intermittently sparks with genuine fire. Suddenly that "Don't keep your distance" lameness acquires a flamenco flair. That's what is happening at Belk Theater in the current touring version, where the actors playing Juan Perón, Ché Guevara, and Eva are all extraordinary. Visually, Christopher Oram's set design isn't quite as pleasing as his costume work, though the balcony of the Casa Rosada does advance downstage as Eva accepts the plaudits of her downtrodden people. Lighting designer Neil Austin can't do much about it, for here as in Phantom of the Opera, nobody has ever heard of daylight.
From all accounts I've read of the recent Broadway revival, director Michael Grandage must have found an Eva who totally eclipses the lackluster Elena Roger. Even as a young country-bred brunette, Caroline Bowman gives us an Evita whose vitality, sensuality, and electricity cannot be contained. She puts whatever sunshine is to be found in "Buenos Aires" and smolders seductively in her "I'd Be Surprisingly Good for You." Star quality? She's got it.
Josh Young goes as far as you can reasonably go in Anglicizing our cynical, revolutionary, and ultimately ambivalent narrator, Che. His voice is as strong as his diction is clear, and he avoids the rock-crooning tendencies of Che's recitatives, cleansing them of the sing-song that has spoiled other performances for me. And while he's not sufficiently older than Eva to play Perón, Sean MacLaughlin wonderfully embodies the chieftain's stiff military bearing and oily charisma. You can see the attraction both ways when he and Bowman hook up.
Debi Oakley subs for Bowman at the Saturday matinee and Sunday evening performances. So Friday night, Saturday night, and Sunday afternoon figure to be your best chances to see this fine production in all its glory.