Editor's note: We recognize how quickly Charlotte has changed over the years, so here's us trying to preserve its story. In this series, local author David Aaron Moore answers reader-submitted questions about unusual, noteworthy or historic people, places and things in Charlotte and the surrounding metro area. Submit inquires to davidaaronmoore@gmail.com.
When I was in elementary school I remember bits and pieces of a news story about several members of a local motorcycle gang being murdered, possibly by a rival gang. Do you recall the case I'm referring to? - Jaymes Williamson, Charlotte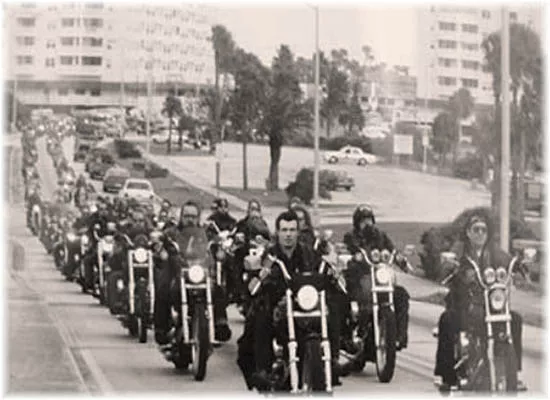 To my knowledge, there has only been one such case in the Queen City: the Outlaws Motorcycle Gang Massacre.
Frequently referred to as the worst mass murder in Charlotte history, five people were slaughtered; four members of the Charlotte chapter of the Outlaws motorcycle gang and a visiting friend were shot dead on July 4, 1979.
According to police reports, two suspects wielding a 9mm and a 223 semiautomatic fired approximately 40 shots at the gang's clubhouse at 2500 Allen Road. Outlaws members William "Mouse" Droneneburg, Randall Feazell, Leonard "Terrible Terry" Henderson and their friend, Bridgette Benfield, were sleeping. A guard on the front porch, William "Waterhead" Allen, was likely talking to the suspects when they opened fire. Police believe the massacre took less than 15 seconds.
The crime was discovered by William Kincaid "Chains" Flamont, the group's leader, who arrived at 5:30 a.m. It was immediately apparent something was wrong: Allen was dead on the front porch with multiple gunshot wounds to the chest. Flamont made his way through the rest of the house, discovered the other bodies, and contacted Charlotte police.
Though the case remains unsolved, an article from the time in the Charlotte Observer indicates that the murders were carried out by the rival Hell's Angels motorcycle gang. Charlotte was home to chapters of both gangs at the time.
"They hate each other," a police investigator in Detroit told the Observer's reporter. "You just can't have them in the same city without all hell breaking loose."

In a show of solidarity, hundreds of Outlaws from across the country reportedly poured into Charlotte for the funerals.
He was never considered a suspect, but Flamont's 223 caliber assault carbine was considered to be the probable lead weapon used in the shootings. It was left in the house on Allen Road the night before the murders, but mysteriously vanished. Social Security records indicate that he died in Maiden, North Carolina, in May 2001.
This July will mark the 35th anniversary of the killings. Locals who recall the story remain divided over the culprit: the Hell's Angels or disgruntled members of the Outlaws?