The move from TV to comics isn't unprecedented, but writers Rob Rosell and Scott Marder have given themselves a tough act to follow as members of the It's Always Sunny in Philadelphia team. Doberman #1 comes from another collaboration from the duo, with writer Jack Lambert and artist Brandon McKinney tackling the ongoing duties on the book.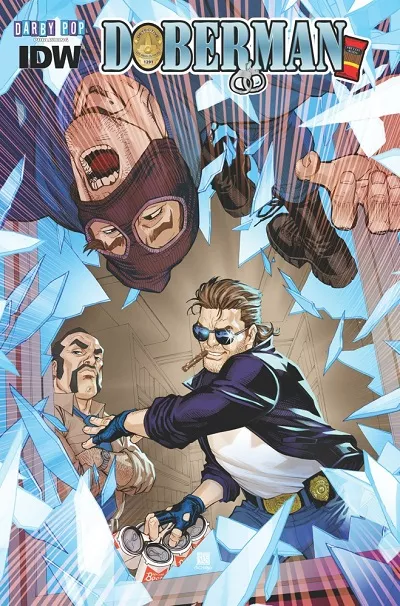 At first glance, it seems like that kind of cop movie that made the '80s great. It's a revenge story, and its protagonist has a slight mullet, sunglasses and a six-pack in hand. In a release, Lambert says, "If Sylvester Stallone, Steven Seagal and Jean-Claude Van Damme had a child, Frank Doberano (aka Doberman) would be that bastard's name."
While this may inspire some hope for some of us, it'll be interesting to see how this will appeal to younger readers in any way. McKinney's art even reeks of the era. Take a chance on it this week, and let us know what you think.
DC Comics
BATMAN A CELEBRATION OF 75 YEARS HC
BATMAN ETERNAL #15
BATWOMAN #33
BIRDS OF PREY TP VOL 04 THE CRUELEST CUT
DAMIAN SON OF BATMAN DELUXE ED HC
DJANGO UNCHAINED TP
FABLES #142
GREEN LANTERN NEW GUARDIANS #33
HARLEY QUINN INVADES COMIC CON INTL SAN DIEGO #1
INFINITE CRISIS FIGHT FOR THE MULTIVERSE #1
JOKER A CELEBRATION OF 75 YEARS HC
NEW 52 FUTURES END #11 (WEEKLY)
RED HOOD AND THE OUTLAWS #33
ROBIN RISES OMEGA #1
SCRIBBLENAUTS UNMASKED CRISIS OF IMAGINATION #7
SUPERGIRL #33
SUPERGIRL TP VOL 04 OUT OF THE PAST
TALES OF THE BATMAN JH WILLIAMS III HC
TEEN TITANS #1
TEEN TITANS TP VOL 04 LIGHT AND DARK
Marvel Comics
100TH ANNIVERSARY SPECIAL #1 X-MEN
ALL NEW X-FACTOR #11
AVENGERS WORLD #9
BLACK WIDOW #4 2ND PTG NOTO VAR
BLACK WIDOW #5 2ND PTG NOTO VAR
BLACK WIDOW #6 2ND PTG NOTO VAR
BLACK WIDOW TP VOL 01 FINELY WOVEN THREAD
CAPTAIN AMERICA #22 75TH ANNIV BY ROSS POSTER
DEADPOOL DRACULAS GAUNTLET #2
ELEKTRA #4
GUARDIANS OF GALAXY #15 2ND PTG BRADSHAW VAR
INHUMAN #1 2ND PTG MADUREIRA VAR
LEGENDARY STAR LORD #1 POSTER
LOKI AGENT OF ASGARD #4 2ND PTG FRISON VAR
LOKI AGENT OF ASGARD #5 2ND PTG FRISON VAR
MAGNETO #1 3RD PTG RIVERA VAR
MAGNETO #2 3RD PTG SAMNEE VAR
MAGNETO #4 2ND PTG SHALVEY VAR
MAGNETO #7
MILES MORALES ULTIMATE SPIDER-MAN #2 2ND PTG MARQUEZ VAR
MMW AVENGERS HC VOL 14
MOON KNIGHT #4 2ND PTG SHALVEY VAR
MS MARVEL #6
NOVA #19 SIN
ORIGINAL SIN #3.2
ORIGINAL SIN #6
ROCKET RACCOON #1 POSTER
SAVAGE HULK #2
SAVAGE WOLVERINE #21
SECRET AVENGERS #5
SHE-HULK #4 2ND PTG WADA VAR
SHE-HULK #6
SILVER SURFER #4
SPIDER-MAN 2099 #1 POSTER
THUNDERBOLTS #28
ULTIMATE FF #4
UNCANNY X-MEN #23 SIN
X-MEN #16
Dark Horse Comics
BPRD HELL ON EARTH #121
BRAIN BOY MEN FROM GESTALT #3
BTVS SPIKE INTO LIGHT HC
EYE OF NEWT #2
GHOST #6
GRINDHOUSE MIDNIGHT TP VOL 01
PICTURES THAT TICK LTD ED HC VOL 02
PICTURES THAT TICK TP VOL 02
STAR WARS DARTH MAUL SON OF DATHOMIR #3
USAGI YOJIMBO LTD HC VOL 28 RED SCORPION
WITCHER #5
WITCHFINDER MYSTERIES OF UNLAND #2
IDW Publishing
24 #4
BORDERLANDS FALL OF FYRESTONE #1
CARTOON NETWORK SUPER SECRET CRISIS WAR #1 2ND PTG (P
DOBERMAN #1
GATE WAY NEW WORLD TP
JUDGE DREDD #21
LITTLEST PET SHOP #3
LUST TP
MY LITTLE PONY FRIENDSHIP IS MAGIC #21
POWERPUFF GIRLS CLASSICS TP VOL 04 PICTURE PERFECT
SQUIDDER #1
STAR TREK SPECIAL FLESH & STONE #1
STERANKO NICK FURY AGENT OF SHIELD ARTIST ED HC
TARZAN RUSS MANNING NEWSPAPER STRIPS HC VOL 03 1971-1974
THE LAST FALL #1
TMNT ANIMATED TP VOL 04 MUTAGEN MAYHEM
TMNT ONGOING #36
V-WARS #2 2ND PTG
X-FILES CLASSICS HC VOL 04
X-FILES YEAR ZERO #1
Image Comics
ALEX + ADA TP VOL 01
APHRODITE IX CYBER FORCE #1 CVR A SEJIC
APHRODITE IX CYBER FORCE #1 CVR B SEJIC
APHRODITE IX CYBER FORCE #1 CVR C SILVESTRI
APHRODITE IX REBIRTH TP VOL 02
BAD DOG TP VOL 01 IN THE LAND OF MILK AND HONEY
BURN THE ORPHANAGE REIGN OF TERROR #3 CVR A GRACE & S
BURN THE ORPHANAGE REIGN OF TERROR #3 CVR B WARD & SH
CAP'N DINOSAUR ONE SHOT
CHEW OMNIVORE ED HC VOL 04
DARK ENGINE #1
DEADLY CLASS TP VOL 01 REAGAN YOUTH
MANIFEST DESTINY #8
RAT QUEENS #7
SHUTTER #2 2ND PTG
SHUTTER #3 2ND PTG
STRAY BULLETS THE KILLERS #5
UMBRAL #7
WICKED & DIVINE #2
WICKED & DIVINE #2 CVR B ZDARSKY
WILDFIRE #2 CVR A LINDA SEJIC
WILDFIRE #2 CVR B STJEPAN SEJIC