DC's newest Vertigo series is Bodies, a murder-mystery that takes place in four time periods. Scribe Si Spencer, known for books like Hellblazer: City of Demons, tackles all of the writing; four artists (Dean Ormston, Phil Winslade, Meghan Hetrick and Tula Lotay) take on a corresponding, six-page chapter in each issue. (On Tuesday, Lotay signed books and gave out sketches at Charlotte's own Heroes Aren't Hard to Find. The comic shop posted photos from the signing here.)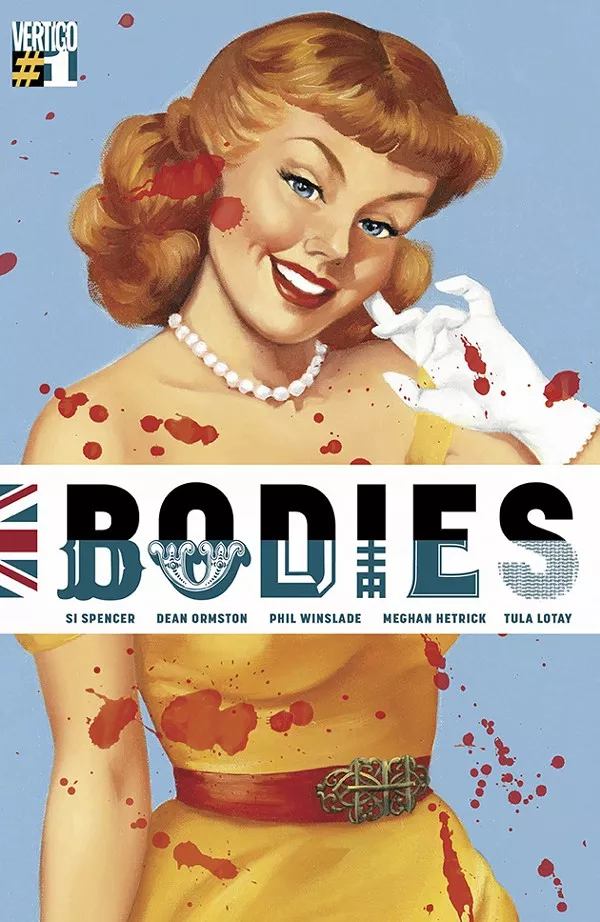 One interesting aspect to the story is the time periods chosen for the series. The narrative takes place in 1890, 1940, 2014 and 2050. Each of the eight issues of the miniseries will visit these points in time, and all contribute to the overall mystery of Bodies.
But this book isn't the only No. 1 to look out for this week. Image has Chew: Warrior Chicken Poyo #1 and Low #1 slated for release. Dark Horse Comics is offering Deep Gravity #1 and Baltimore: The Witch of Harju #1. And for Marvel fans, the tongue-in-cheek 100th Anniversary Special: Guardians of the Galaxy is set to debut.
DC Comics
ADVENTURES OF SUPERMAN #15
AME COMI GIRLS TP VOL 02 RISE OF BRAINIAC
AQUAMAN ANNUAL #2
BATMAN DARK KNIGHT HC VOL 04 CLAY (N52)
BATMAN DARK KNIGHT TP VOL 03 MAD
BATMAN ETERNAL #17
BATMAN LIL GOTHAM TP VOL 02
BATWING TP VOL 04 WELCOME TO THE FAMILY (N52)
BODIES #1
DC COMICS PRESENTS BATMAN ADVENTURES #1
DETECTIVE COMICS ANNUAL #3
DOOM PATROL OMNIBUS HC
HARLEY QUINN #1 5TH PTG
HARLEY QUINN #8
JUSTICE LEAGUE #32
JUSTICE LEAGUE #32 COMBO PACK
NEW 52 FUTURES END #13 (WEEKLY)
RED LANTERNS ANNUAL #1
SANDMAN OVERTURE #3 COMBO PACK
SANDMAN OVERTURE #3 CVR A
SANDMAN OVERTURE #3 CVR B
SINESTRO #4
SMALLVILLE SEASON 11 SPECIAL #5
VERTIGO QUARTERLY #1 MAGENTA
WAKE #10
Marvel Comics
100TH ANNIVERSARY SPECIAL #1
ALL NEW GHOST RIDER #3 2ND PTG MOORE VAR
ALL NEW GHOST RIDER #5
ALL NEW X-MEN #27 2ND PTG IMMONEN VAR
ALL NEW X-MEN #28 2ND PTG IMMONEN VAR
AVENGERS #33
AVENGERS WORLD #10
CYCLOPS #3
DEADPOOL DRACULAS GAUNTLET #4
FIGMENT #2 2ND PTG CHRISTOPHER VAR
GUARDIANS OF GALAXY #17
HAWKEYE #19
HUMAN TORCH BY KESEL AND YOUNG COMP COLL TP
IRON MAN SPECIAL #1
IRON PATRIOT #5
LEGENDARY STAR LORD #1 2ND PTG MCNIVEN VAR
MARVELS GUARDIANS GALAXY ART OF MOVIE SLIPCASE HC
MIGHTY AVENGERS TP VOL 02 FAMILY BONDING
MMW AMAZING SPIDER-MAN TP VOL 08
NEW AVENGERS #21
ORIGINAL SIN #3.3
ROCKET RACCOON #1 2ND PTG YOUNG VAR
RUNAWAYS COMPLETE COLLECTION TP VOL 01
SECRET AVENGERS #6
SPIDER-MAN COMPLETE ALIEN COSTUME SAGA TP BOOK 01
ULTIMATE FF #5
UNCANNY AVENGERS #22
UNCANNY X-MEN #24 SIN
WOLVERINE #9 2ND PTG MCNIVEN VAR
X-MEN #17
X-MEN MAGNETO TESTAMENT TP NEW PTG
Dark Horse Comics
BALTIMORE WITCH OF HARJU #1
CAPTAIN MIDNIGHT #13
DEEP GRAVITY #1
EC ARCHIVES TWO-FISTED TALES HC VOL 03
EMILY & THE STRANGERS BREAKING RECORD #2
GASOLINE ALLEY HC VOL 02 COMPLETE SUNDAYS 1923-1925
KING CONAN CONQUEROR #6
MASSIVE #25
MIND MGMT #24
PARIAH #6
STAR WARS REBEL HEIST #4 HUGHES MAIN CVR
VEIL #4
IDW Publishing
CARTOON NETWORK SUPER SECRET CRISIS WAR #2
CARTOON NETWORK SUPER SECRET CRISIS WAR #2 SUBSCRIPTION
DANGER GIRL MAYDAY #3
GHOSTBUSTERS #18
GI JOE COMPLETE COLL HC VOL 05
INFESTATION OMNIBUS TP
JINNRISE TP VOL 02
LOCKE & KEY COVERS OF GABRIEL RODRIGUEZ HC
METAL GEAR SOLID DLX ED HC
RIP KIRBY HC VOL 07
SAMURAI JACK #10
STAR SLAMMERS REMASTERED #5
TALES O/T TMNT TP VOL 05
TRANSFORMERS ROBOTS IN DISGUISE #31 DAWN O/T AUTOBOTS
V-WARS #4
WELL HC ARON WIESENFELD ART BOOK
WRAITH WELCOME TO CHRISTMASLAND HC
ZOMBIES VS ROBOTS Z-BOYZ I/T ROBOT GRAVEYARD PROSE TP
Image Comics
BLACK SCIENCE #7
CHEW WARRIOR CHICKEN POYO #1
COWL #3
DRUMHELLAR #7
EAST OF WEST #14
FATALE #24
FIVE WEAPONS #10
FUSE #6
HACK SLASH SON OF SAMHAIN #1 2ND PTG
LAZARUS TP VOL 02 LIFT
LOW #1
MANHATTAN PROJECTS #22
MERCENARY SEA #6
MICE TEMPLAR IV LEGEND #12 CVR A OEMING
MICE TEMPLAR IV LEGEND #12 CVR B SANTOS & FREE
NAILBITER #3 2ND PTG
OUTCAST BY KIRKMAN & AZACETA #2
PROPHET #45
SHELTERED TP VOL 02
SOUTHERN BASTARDS #3 2ND PTG
SOVEREIGN #5
TEN GRAND #10 CVR A SMITH
TEN GRAND #10 CVR B ANDRASOFSZKY
WITCHBLADE #177 CVR A BRAGA
WITCHBLADE #177 CVR B CHRISTOPHER