Check out these new exhibits, opening this week in Charlotte and the surrounding area.
British Invasion at Bechtler Museum of Modern Art: The exhibit showcases lithographs, drawings, sculptures and paintings created by British artists, including Henry Moore, Ben Nicholson, Barbara Hepworth and Bridget Riley. Oh, and while you're there: Check out the new exhibit, The Firebird: Celebrating Five Years in Charlotte. The main focus is on the Firebird sculpture that stands outside of the museum. Created by Swiss sculptor Niki de Saint Phalle and marking its spot along Levine Center for the Arts in 2009, the exhibit tells the story of the sculpture from past to present. Sept. 10-Feb. 18. $4-$8; Free for members and children 10 years old and under. Bechtler Museum of Modern Art, 420 S. Tryon St. 704-353-9200. www.bechtler.org.
Re/Presenting HIV/AIDS at Davidson College's Van Every/Smith Galleries: The exhibit, featuring 12 artists and a variety of mediums, highlights the ongoing HIV/AIDS epidemic from both scientific and artistic perspectives. Exhibit continues through Oct. 5. Free admission. 315 N. Main St., Davidson. www.davidsoncollegeartgalleries.org.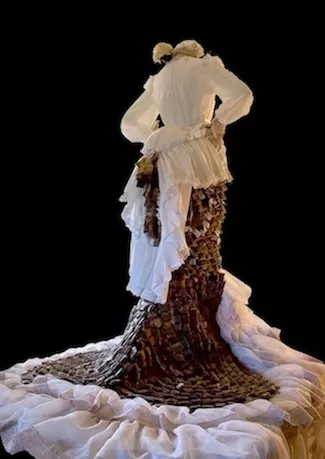 In the Hood
at New Gallery of Modern Art: Through satirical installations, Willie Little parallels the KKK's and the Tea Party's rise to mainstream awareness, as well as juxtaposing ideas between the Tea Party and hip-hop culture. In the exhibit: a 20-foot tall KKK hood; a gold-leafed, diamond-encrusted Mercedes Benz medallion; a gown adorned with black tea bags; and minstrel-like dolls, created by painting white dolls black. Reception on Sept. 11, 5 p.m. to 8 p.m. Exhibit continues through Oct. 2. Free admission. 435 S. Tryon St. 704-373-1464.
www.newgalleryofmodernart.com
.
Luis Machicao: Couture Retrospective
at LaCa Projects: The exhibit features the couture fashions of Peruvian designer Luis Machicao. Exhibit continues through Oct. 24. Free admission. LaCa Projects, 1429 Bryant St. 704-837-1688.
www.lacaprojects.com
.