Live Review: CarnEvil (Photo gallery after the jump)
Amos' Southend
Oct. 31 & Nov. 1, 2008
The Deal: Annual festival expands to two days as costumed-partiers, bands, acts and oddities fill Amos' Southend.
The Good: If you think "variety is the spice of life," you should have been at CarnEvil this weekend. It was one of those you-name-it-they've-got-it events. Slutty costumes? Of course! Midget porn? Yep! S&M booth? That too! Fire dancers? Why not! Cage dancing? Uh-huh! A drum circle? You got it! And a whole bunch of music on top of that.
Friday's event was the busier of the two nights, though neither crowd was shabby. It started with a guy danced basically as a human disco ball with an equally-shimmering, two-foot long penis acting as the emcee of the affair. Mego Dirge opened the musical part of the night with a 40-minute set that shook the walls and rocked the rafters — think of Nirvana with a harder edge. A brief skit of belly dancing with a strong S&M and Halloween vibe to it was the next act before the hard rock of Black Lagoon hit the stage, set apart by a female singer. When the bands were done, DJs played for the rest of the night as costumed revelers bumped, grinded and shook their collective asses — and a few needed to "get a room" - around the club.
Saturday was much of the same as far as the layout, DJs and costumes — at least it had a similar vibe to it — but the bands and attractions were a bit different. Eyes of the Elders, backed up by Stump Dickens, brought their hip-hop via live band to the stage and got the place moving. While the same belly dancing act followed, it was then up to The Lights, Fluorescent to rock the place. The night ended with a Zombie Fashion Show as scantily clad ladies in lingerie and plenty of ghoulish face makeup walked the runway.
Both nights were held to benefit the Levine's Children's Hospital and DrumStrong.
The Bad: Not much to complain about. It was cold, but that's no one's fault. It seemed like a lot of people would clear out after the bands and not stick around for the DJ. Also, there was a DJ tent outside and a DJ inside...maybe mixing up the types of music would have prevented some from bailing out early.
The Verdict: Overall, a great event that fit the holiday. Some of the costumes, seen here, here and here, were truly amazing, too.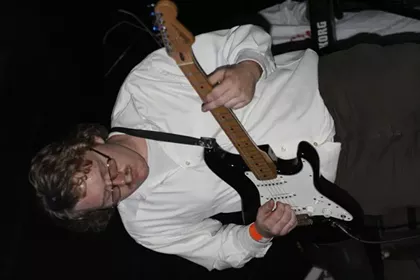 21 slides