Vans Warped Tour
Verizon Wireless Amphitheatre
July 28, 2011
Ah, the annual rite of passage known as Warped Tour has come and gone again. Filled with audience comprised of teenagers with bad tattoos and facial piercings, it's a quick way to make you feel old and get your fill of screaming emo bands all at once.
The music remains fresh — to teenagers — as they're the ones who attend this all-day outdoor music festival full of metal with a splash of reggae and rock.
I enjoyed the Social Distortion-style of Black List Royals, was entertained by the stage antics of Enter Shikari and Gym Class Heroes, laughed at the cheesiness of Shira, the pornographic gore of Blood on the Dance Floor and had a hard time telling the difference between a number of melodic/screamo bands including The Devil Wears Prada, August Burns Red and A Day to Remember.
Against Me! drew a smaller crowd than I expected, though with seven stages spread out around the Verizon Wireless Amphitheatre grounds, it was difficult to tell exacly where all the crowds were at what time.
Yelawolf impressed with an Eminem-esque (he's on Slim Shady's record label) rapid-fire approach in front of a massive crowd while Dr. Madvibes, aka Angelo Moore of Fishbone, drew only a dozen or so people late in the day.
Peelander-Z was completely wacky while Black Veil Brides took a few too many pages out of the Kiss/Motley Crue book of rock.
Here's a quick look at some of the sights of Warped Tour from the Charlotte tour stop.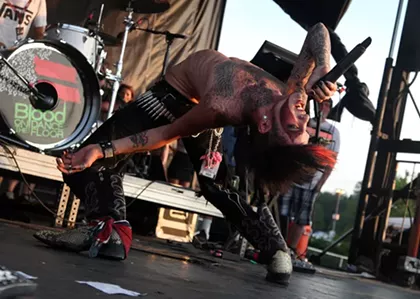 36 slides