Southern Culture on the Skids w/ The Malamondos
Visulite Theatre
July 29, 2011
The Deal:
Chapel Hill band brings its brand of "toe-suckin' geek rock" to a packed Visulite Theatre for two hours of fun.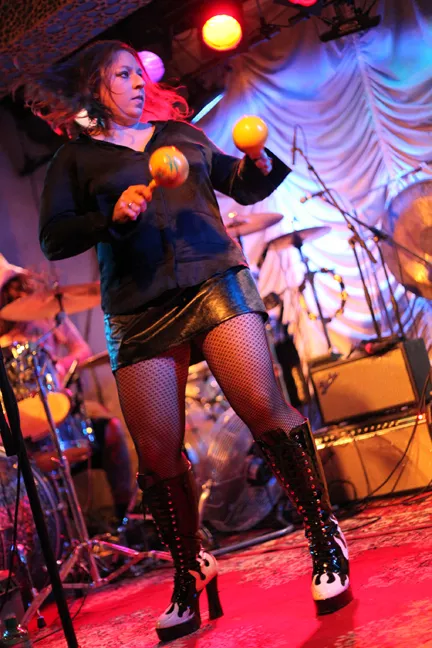 The Good:
The night got started with The Malamondos, a quartet that fit right in with the brand of rock to come later that night. There were some '60s rock elements mixed into the band's music. The band labels itself as psycho go-go and that's a good fit — strong drumming, a fez-wearing guitarist and a dancing female singer all brought the energy to help warm up the crowd during a 45-minute set.
Southern Culture on the Skids hit the stage around 10:30 p.m. and launched into a long night of music, dancing and all-around fun. I hadn't seen the band in a few years — having first seen them in the early 1990s and caught them from time to time in various cities — so it was great to see that the band has not only kept their humor, but solidified their talent as well. Singer/guitarist Rick Miller's solos came off with ease throughout the set, highlighted by the instrumental surf song, "The Wet Spot" and the night's opener, "Skullbucket."
Sure, there was a setlist by Miller's feet listing about 15 songs, but the band never stuck to it, playing songs called out by fans and sometimes just going with their gut. Numerous ladies made their way on stage in the second half of the show to dance their asses off as the band played. Needless to say, the band also continued its tradition of handing out fried chicken before performing "8 Piece Box."
There was little banter between the music, though Miller did find time to recount a time years ago when the band stayed at the Master's Inn on Independence Road and dedicated the song "Cheap Motel" to it. They also dedicated "Banana Puddin'" to Gus' Sir Beef.
The Bad: With such an extended catalog, there are always going to be a few favorites left off, but it sure is difficult to complain about a show that includes 30 songs over the course of two hours in front of a packed venue. I was only surprised that during "Banana Puddin'," there wasn't any banana pudding being passed around as they used to do — I'm guessing a few too many messes may have ended that tradition.
The Verdict: One of those bands that's a must-see for it's campy humor and simple fun. Who else can sing about trailer parks, burning trash and fried chicken without wearing a cowboy hat?
SCOTS Setlist
Skullbucket
Pig Pickin'
Nitty Gritty
Voodoo Cadillac
Liquored Up, Lacquered Down
Mojo Box
Bone Dry Dirt
House of Bamboo
The Wet Spot
My Neighbor Burns Trash
High Life
'69 El Camino
Firefly
Funnel of Love
Greenback Fly
Dirt Track Date
Camel Walk
??
Soul City
Cheap Motel
Rose Garden
Stone In My Pocket
Banana Puddin'
8 Piece Box
Daddy Was a Preacher, But Mama was a Go Go Girl
Great Atomic Power
Encore
Zombified
Come As You Are
Chicken Shit Farmer
Busy Road
Shotgun