Identity Festival
Verizon Wireless Amphitheatre
Aug. 16, 2011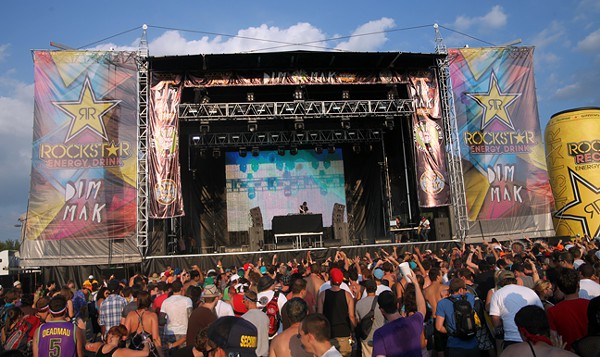 The Deal:
Inaugural electronic festival hits Charlotte for a long day of thumping beats.
The Good: Some of the artists used live instrumentation and singing... I thought Afrobeta brought a fun energy to its set, at one time remixing the Warner Brothers/Bugs Bunny theme song.
The Bad: I knew I was in for a long day when I could hear the bass thumping from a mile away — I was at the corner of Tryon and I-485 to be exact and it could be heard with my windows closed.
There's a relentless monotony involved in electronic music that for some is the rhythm of their hearts and dance steps, while for others it's the equivalent of being repeatedly punched in the head, but with less bruising.
From the moment I stepped on the grounds of the amphitheatre at 1:15 p.m. until I got in my car somewhere around 10 p.m., I endured what sure felt like one long song played with repetition and intense volume. At times while walking around, I could feel my teeth rattling.
My day started with the Data Romance who combined live singing with its electro music — combining some form of toned down, more atmospheric music with subtle vocals.
Holy Ghost! made a solid effort at performing as a live band, but they looked bored.
Le Castle Vania began the day's solo DJ streak with a series of thumping beats that got the crowd moving. It was from hear out though that most songs sounded the same for the rest of the day. Sure, Rusko went more for Dubstep and other artists such as Nervo and DJ Shadow brought in plenty of samples, but it all sounds so similar — heavy bass, some electronic overlays and occasional samples.
The girls of Nervo played enough samples that for the most part they simply jumped up and down, made hand gestures at the crowd and sang along to the words. Sounds like an easy job...
Modeselektor tried to act like they were singing some of the parts, but when the microphone was disconnected, the act continued... I guess it was all in fun, but also kinda pointless and only proved that the guys weren't actually doing much on stage to create the sounds people were hearing.
While a crowd grew for Datsik, I wondered what drew people to him instead of Booka Shade who combined live drumming with their electronic brand. I wondered how people made a choice between the similar sounds of Kaskade and Steve Aoki. I wondered if people cared that DJ Shadow performed most of his set from inside a globe that was facing away from an audience. Disco Biscuits tried to bring a hippie side to the day, but even their music was soaked in electronic additions and repetition.
When electronic music is played at night, there's a light show — as Aoki and Kaskade proved. The DJ is there, but if people are watching anything, it's the "show" going on all around them. So, what's to look at during the other sets. There were some video screens, but for the most part, it was all about the music — and repetitive music isn't quite the same without the lasers and lights.
I wonder how many DJs could simply walk on stage, press play on their computer and then just dance around with the crowd while a video played — would the crowd care? Britney Spears packs arenas for basically doing the same thing — who knows when the last time she actually sang on stage was, or if she ever did.
Fans collectively danced their asses off — most of which were barely covered within the "clothing" that fits the genre. (What's the story with all the furry boots and respiratory masks?)
The small crowd - estimated at only a few thousand people - make you wonder how viable the event is, but the people in attendance soaked up every beat, rhythm and bass groove thrown at them.
The Verdict: There's no mystery here — I'm not a fan of the genre. However, the idea is a great one for those that are and I hope it continues for them. As The Crystal Method put it, "it's time to bring this music out of the clubs and into the daylight."
21 slides