Junior Astronomers, Today the Moon Tomorrow the Sun, Birds with Teeth
Tremont Music Hall
Aug. 26, 2011
The Deal: Two Charlotte bands — Junior Astronomers and Birds with Teeth — hit Tremont's smaller Casbah stage along with Atlanta's Today the Moon, Tomorrow the Sun for a great, sweaty night of music.
The Good:
When I walked in — I had just left
Grace Potter's show
across town — Birds with Teeth was just getting started. The Charlotte quartet plays a punk brand of rock that would be at home on Warped Tour — though without all the unnecessary screamo. There can be some pop sensibility in the melodies, but it definitely has an edge to it that's right at home in Tremont. The group exchanged smiles throughout their set, feeding off the crowd's energy.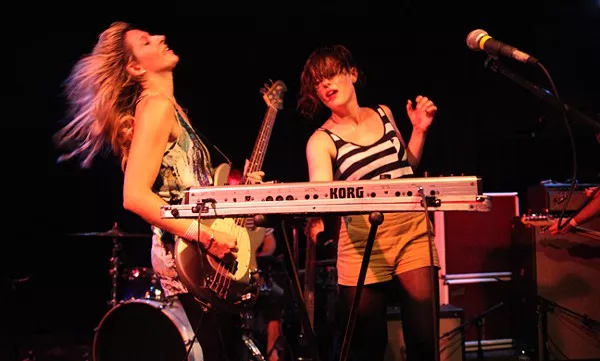 Next up was Today the Moon, Tomorrow the Sun who was even better than the first time I saw them. The band's energy is infectious as the band's Metric-like songs find a rougher road, but one that works just as solidly. The songs are well-written — lyrically and sonically — getting help from electronic drums at times where it isn't overwhelming but just adding the right touch to an intro or rhythm. They quickly won over the crowd and you could tell they too were feeding off the energy exuded by the crowd as they got deeper into their set. As bassist/keyboardist Micah banged her head, singer/guitarist/keyboardist Lauren danced around, got into the crowd and eventually played the keyboard behind her head... It's great to see a band that is comfortable on stage to the point where any energy given to them is returned to the audience exponentially. They'll be back in town on Oct. 23.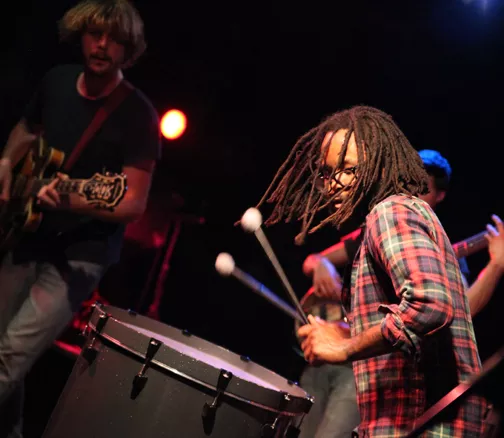 Charlotte's Junior Astronomers closed out the night and if there wasn't enough sweat in the venue already, the group brought a new intensity to the stage. The band's indie rock grooves, compiled by additional bass drumming by the singer Terrence Richard, brought new life to the venue as the crowd piled up front and sang along to nearly every word of every song. Songs like "Party and the Parable" were loud and rowdy — as they should be.
The Bad:I missed the opening set by My Captain, featuring former members of The Lights, Fluorescent. From what I've seen/heard online, there's some solid stuff being created by these guys and I look forward to catching them in the near future.
The Verdict: I got exactly what I expected and hoped for — a raucous, sweaty night filled with fantastic music that left me wanting more from all the bands I saw.