Jessica Lea Mayfield, Matrimony
Snug Harbor
Sept. 18, 2011
It's not easy to draw a crowd on a Sunday night in Charlotte, but a strong lineup goes a long way in getting people out of their homes. Snug Harbor in Plaza-Midwood had a particularly strong one on Sept. 18, when Ohio-based singer/songwriter Jessica Lea Mayfield and Charlotte's Matrimony shared the bill for a night of emotion-driven music.
Mayfield's plaintive vocals are the spotlight in her songs, which convey heartache and solitude. Beginning with "Our Hearts are Wrong" — the first single from her early-2011 album
Tell Me
— Mayfield went on to play songs from that album as well as her '08 breakthrough
With Blasphemy So Heartfelt
.
"Kiss Me Again" drew the night's largest singalong, although the crowd held back a bit to let Mayfield lead the way. Her haunting style commanded attention as she sighed out each fragile word.
Mayfield's backing band was the perfect combination of intensity and restraint, punctuating the music to give her songs more depth without taking anything away from the barren landscape her words and vocals require. Halfway through, Mayfield performed two songs — a new one and Tell Me's "Sleepless" — on acoustic guitar only.
Guitarist Richard Kirkpatrick performed a pair of upbeat tunes of his own before Mayfield returned to wrap up the show with a handful of tracks that continued down the somber trail she's made for herself and her music. Her captivating voice — not to mention some crazy false eyelashes and an "Earnhardt" shirt over fishnet sleeves — mitigated a generally lackluster stage show. She closed with "Blue Skies Ahead," performed with more energy than on the album, as the band sank into the music and projected it into the crowd.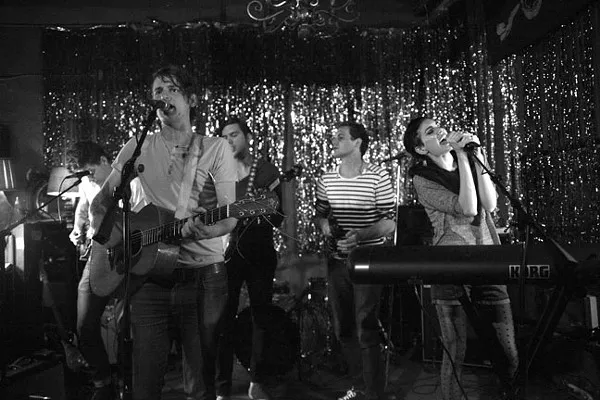 Opening band Matrimony's undergone a few changes in recent months, but the current quintet seems to be its strongest combination yet. It's become even more of a family affair, with married couple James Brown and Ashlee Hardee backed by two of Hardee's brothers, bassist Jordan and multi-instrumentalist C-J, and drummer Alex Watson.
In addition to songs from Matrimony's debut EP, The Storm & The Eye, the group offered a few new tunes that strayed a bit from its emotional folk into something a bit more indie-rock. The result was a strong 45-minute set showcasing the couple's vocals in addition to familial harmonies and varied instrumentation including banjo and mandolin. There were a few sound issues, but the band stormed through them.
What started out as the duo of Brown and Hardee has developed into something richer, with more instruments thickening the sound. The band seemed quite ready to take off to New York City the following day for a label showcase.