Lupe Fiasco
Time Warner Cable Uptown Amphitheatre
Sept. 23, 2011
Photos by Jeff Hahne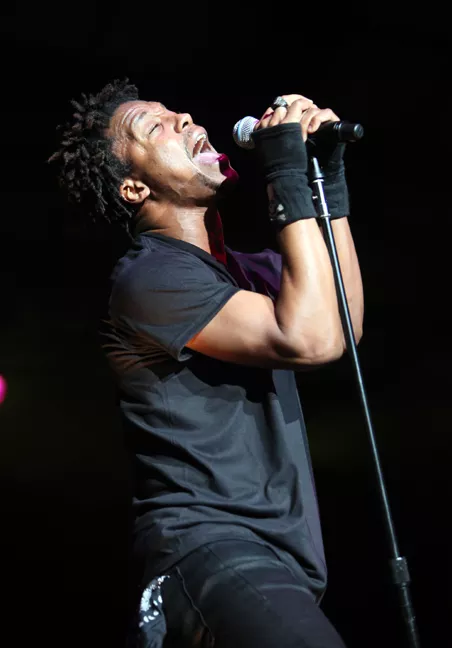 Earlier this year, Lupe Fiasco released his third studio album,
Lasers
. In an interview with
Complex
, he said, "I love and hate this album. I listen to it and I'll like some of the songs. But when I think about what it took to actually get the record together and everything that I went through on this record — which is something I can't separate — I hate this album. A lot of the songs that are on the album, I'm kinda neutral to."
But if you attended his stop in Charlotte for the Generation Laser Tour at Time Warner Cable Uptown Amphitheatre on Friday night, you'd have never known of his ambivalence.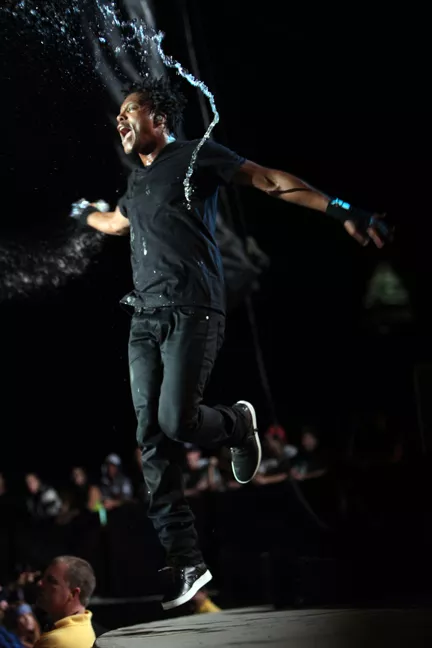 I've always been a fan of Fiasco's thought-provoking political lyrics and smooth flow, but as a hip-hop artist, his energy took me by surprise. And I loved that. From spraying the crowd with water and head-banging like a rock star to bringing his violinist centerstage to be in the spotlight, Fiasco proved he is so much more than just a rapper from Chicago.
Regardless of how he may have initially felt about Lasers, he performed songs from it and a few (like "Kick, Push" and "Go Go Gadget Flow") from his previous works with a passion that bled into the audience.
Of course, he stayed true to his political views, even in his stage performance — during "The Show Goes On," he waved the Palestinian flag. He also asked the audience for a moment of silence to honor Troy Davis, who was put to death on Sept. 21 despite doubts of his guilt.
When one guy in the crowd screamed out "Sign my shirt, Lupe!" during the silence, the performer agreed to do so. Classy, right? Well, he flashed the shirt for all to read. He'd scribbled, "It's called a moment of silence." I would have expected nothing less.
Setlist
Words I Never Said
State Run Radio
I Don't Wanna Care Right Now
Go Go Gadget Flow
Coming Up
Till I Get There
Kick Push
Hip Hope Saved My Life
All Black Everything
Out Of My Head
Break the Chain
Beautiful Lasers
Never Forget You
Superstar
The Show Goes On