Larkin Poe
Evening Muse
May 31, 2012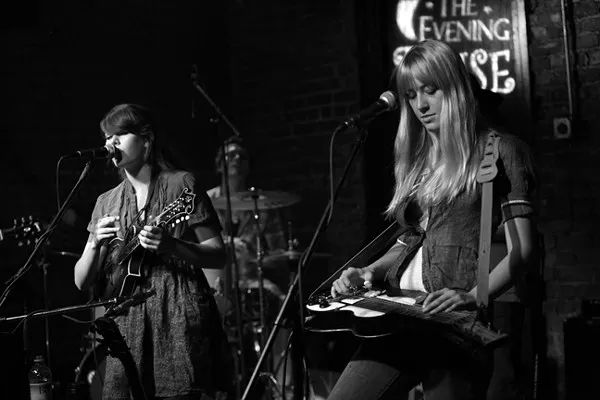 It only took the first verse of the first song at Thursday night's Larkin Poe concert at the Evening Muse to realize this wasn't the same band that performed at MerleFest in 2010. Back then, Megan and Rebecca Lovell, formerly of The Lovell Sisters, had just formed Larkin Poe and the music had been steeped in bluegrass flavors.
These days, Megan still plays the lap steel and Rebecca wields an acoustic guitar and mandolin, but the three musicians backing them with electric guitar, bass and drums have added a heavier hand to the music and brought it into folk rock territory.
Making their Charlotte debut, Larkin Poe opened the set with "The Principle of Silver Lining," as the electric guitar sparkled throughout and Megan and Rebecca showed that their harmonies are still intact. A country flair flared up within "Jailbreak" and the band's version of "Wade in the Water" contained a rhythm closer to The Doors' "Five to One."
Instead of sounding like two girls who found a few people to back them up, Larkin Poe sounds like a complete band - a solid, attention-grabbing band that is putting their own stamp on the Americana genre as the lap steel and mandolin are incorporated without leaning too heavily on country and bluegrass.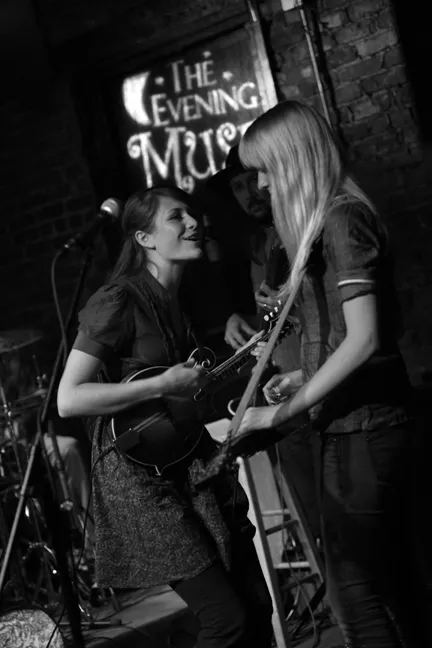 The current lineup has only been together for about three months, but already the music is a strong indication of where the band is headed. Smiles on faces relayed the message that while they're still discovering each others' abilities, every band member is having an absolute blast on stage.
The Lovells form the core of the band - Rebecca and Megan offered an impromptu jam while the guitarist changed a string - and their harmonies shine brilliantly, as sibling vocals often do. Rebecca's stellar mandolin playing and Megan's abilities on lap steel add the right spice for originality while the duo is careful not to let their instruments outshine the songs themselves.
A soft cover of Massive Attack's "Teardrop" stayed true to the original in that it let Rebecca's vocals take the spotlight, while a fun-spirited "Money (What I Want)" brought back a bit of the band's bluegrass beginnings within the familiar tune.
However, it wasn't only bluegrass that found its way into the mix as "Fox" was filled with jazzy undertones bordering on jam band territory and blues and soul energy flooded "Tumbleweed" and "Play On" through Rebecca's vocals. If that wasn't enough, the band's set-closing cover of Jimi Hendrix's "Bleeding Heart" not only veered straight into rock, but gave each band member an opportunity to shine with brief solos.
What was most impressive during the performance was that all of the genres and flavors fit under one umbrella and without sounding forced, disjointed or like a band that hasn't discovered its sound. Rebecca and Megan have had plenty of time to get performing under their belt - they started the Lovell Sisters as teenagers in 2005 - and can finally focus on expressing who they are in a stronger band setting.
Setlist
The Principle of Silver Lining
Jailbreak
Wade in the Water
Celebrate
Instrumental jam
Trance
Teardrop
Fox
Sea Song
Taller Fall Than a Tall Man
Word to the Wise
Tumbleweed
Burglary
Money (What I Want)
Love or Money
Just In Case
Play On
Bleeding Heart