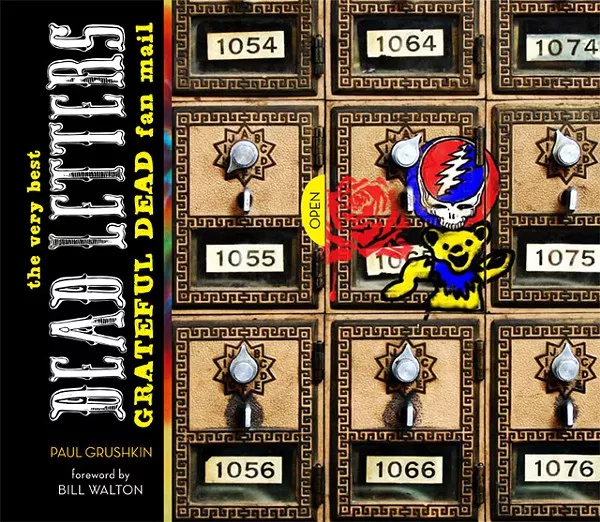 Dead Letters: The Very Best Grateful Dead Fan Mail
By Paul Grushkin
Voyageur Press; 208 pages; $29.99
1989. 6 a.m. I'm sitting in my brother's maroon Volvo — the one with Grateful Dead stickers all over the back of it — listening to a Dead cassette tape with him and a friend while we freeze our asses off. We're waiting in a parking lot behind Jack's Music in Red Bank, N.J., until 9 a.m. when the ticket window opens so that we can buy tickets for the next Grateful Dead tour.
That's the way it was in the "old days." You want tickets? Get your ass up really early on a Saturday morning and camp out in line. It's either that or try your luck by phone calling into Ticketmaster with thousands of other people. Thankfully, Jack's usually sent someone out at 8 a.m. to give people wristbands so they didn't have to wait for the last hour and to relieve the stress of where they were in line.
Of course, the Grateful Dead did offer another option — ordering by mail. Try your luck at getting tickets in advance of the public on sale date by mailing in a check or money order. When Deadheads would send in mail, they wouldn't just send a plain 'ol envelope, they designed the hell out of 'em in hopes of being one of the fortunate enough to get picked. Grushkin's new book, Dead Letters, captures some of the best.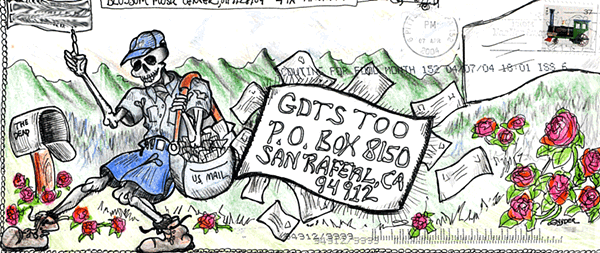 It's amazing, when you flip through the pages, the lengths that people would go to in order to make an envelope stand out. Intricate designs, top-notch portraits and some simple sketches are all included here. It's damn impressive and it's nice that someone saved them for a collection like this.
Watercolors, markers, pen and ink — people got creative in their efforts. "Please Ease Me In" one envelope states, quoting Dead lyrics. Another envelope pictures Ernie and Bert wearing tie-dyed t-shirts and hanging out on Shakedown Street and yet another depicts Snoopy carrying some equipment to tape the show. One chapter is dedicated to fan interpretations of the famous Steal Your Face logo and another features portraits of the band. Of course bears were a popular choice, as were turtles — Terrapins in celebration of the fan favorite song, "Terrapin Station."
It's a fascinating read and one that captures the spirit of the Deadheads in a new light. It's not all images, though those are the most appealing, it also includes the stories behind the sales team and band from their perspective.
Grateful Dead Ticket Sales lives on to this day as GDTS Too, selling tickets to the various incarnations of Dead bands — Further, Phil Lesh, Bob Weir, etc. — but it was the '90s heyday that helped define it and this book perfectly captures its essence.