Jane's Addiction w/ Black Box Revelation
House of Blues, Myrtle Beach, S.C.
March 10, 2012
Jane's Addiction is in the middle of its Theatre of the Escapists Tour, a cross-country journey taking the '90s alt-rock kings to various venues which average 2,000 people per night. While a May 23 concert at Charlotte's Ovens Auditorium was recently announced (with opening act The Duke Spirit), I decided to make the four-hour trek to the shore last weekend to see the band at the House of Blues in Myrtle Beach as an early preview.
The opportunity to see a big-name band in a small concert venue doesn't happen often. As an artist grows in popularity, the ability to see them in a smaller club wanes away, unless they play a last-minute tour warm-up (see Van Halen's recent N.Y.C. gig) or head out on one of those rare club tours.
Having seen Jane's Addiction a handful of times over the years - Lollapalooza and at New York's Madison Square Garden in 1991, during the Relapse Tour in Atlanta in 1997 and at the Voodoo Festival in New Orleans in 2009 - I was curious to see them in a more intimate setting.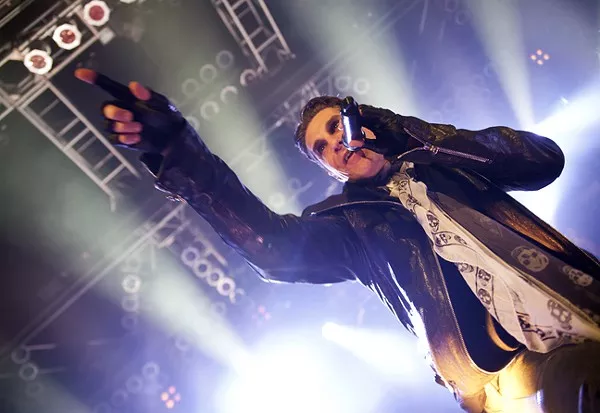 As the sounds of introductory Pink Floyd music faded away, Jane's Addiction - singer Perry Farrell, guitarist Dave Navarro, drummer Stephen Perkins and bassist Chris Chaney - took the stage. With one hand in the air, Farrell began singing as the band launched into "Underground," the energetic first song on the band's 2011 album,
The Great Escape Artist
. Starting with a new song was a sign this outing is much different than previous performances.
For years, Jane's Addiction focused on its early material. It's last tour was based around a reunion with original bassist Eric Avery and material from 2003's Strays album has been hit or miss.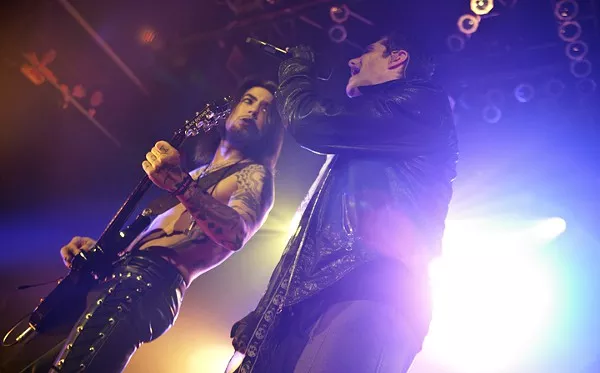 "Underground" was followed by Farrell's infamous "Coming down the mountain!" cry of "Mountain Song." From there, the band played "Just Because," from the previously mentioned
Strays
(and the theme song for the HBO show
Entourage
).
Wearing fingerless gloves and a leather coat, Farrell often leaned against the monitors on stage and reached out to shake hands with audience members. He tried his best to calm a rowdy, sold-out crowd, joking that fighting guys need to "kiss and make up" and that everyone in attendance now knew what it was like to be a sardine.
A lengthy, raucous version of "Ted, Just Admit It..." included some of Perkins' finest drumming of the night as Navarro's hands playfully floated and flirted with his soaring guitar riffs. Meanwhile, Farrell found plenty of time to alter his voice through a large rig on stage, giving his howls even more banshee-like qualities.
A brief rest was given to band and crowd alike when Navarro and Chaney sat in large antique chairs for "Classic Girl" and the band's acoustic-calypso take on "Jane Says." Farrell's bandmates then took spots behind an array of drums as the group kickstarted the tribal "Chip Away."
The newer "Irresistible Force," from The Great Escape Artist, had all of the choral energy of the album's version and led into the dreamy, epic, "Three Days" before the band closed out the regular set with "Stop!"
Referencing the nearby body of water and his passion for surfing, Farrell led into the second of two encore songs, "Ocean Size." When the last notes rang out, all four band members stuck around to shake hands, toss guitar picks and pass out a couple drum sticks, sharing smiles with everyone in attendance.
Close proximity of the band to their fans enabled more interaction - including plenty of between-song banter from Farrell. He was also more active than I've seen him, looking younger than his 52 years and finding plenty of time to dance around, jump off the drum riser and kick his legs up in the air while dancing around the stage. Instead of looking like a band that was playing an arena and going through the motions, the group looked more like kids playing in front of their biggest fans.
While the upcoming show at Ovens Auditorium will be seated, it will also have greater production values as the small stage at the House of Blues limited what the band planned to do for this tour.
The opener on this leg of the tour was Belgium rock duo Black Box Revelation, a heavier, garage-rock version of The Black Keys who played a 40-minute set full of furious drumming and plenty of low-end riffs.
Soaked in blue and red lights, and the occasional strobe, the music, including "High on the Wire" and "I Think I Like You," leaned more toward punk than the bluesy base of The Black Keys, offering plenty of howls and Cobain rasp in the vocals. Where so many opening acts are often dismissed or ignored, it didn't take long for BBR to win over the crowd.
Jane's Addiction Setlist
Underground
Mountain Song
Just Because
Been Caught Stealing
Ain't No Right
Ted, Just Admit It...
Twisted Tales
Classic Girl
Jane Says
Chip Away
Irresistible Force
Three Days
Stop!
Encore
Words Right Out of My Mouth
Ocean Size