Math the Band
The Milestone
April 10, 2012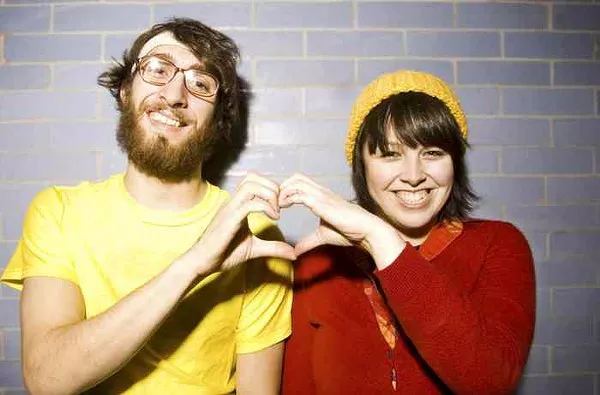 From the moment Math the Band took the stage, the chiptune-electro-punk duo had no problem controlling the Milestone's vibe. The male-female duo performed with the energy of woodland creatures high on pixie sticks while contagiously commanding the crowd to follow in the band's footsteps.
Video-game nerds may be a bit on the awkward side, but one thing is for certain - when they have a knack for playing instruments and embrace their interests through the incorporation of chiptune Nintendo beats alongside traditional instruments, they create a comfort bubble that rocks a crowd and moves a dance floor.
The Providence, R.I., group headlined a diverse-yet-nerdy concert bill that filled the West Charlotte venue with hints of punk, rock and hip-hop. While Math the Band was the least nerdy as far as lyrical content, their chaotic party punk was the ultimate garnish on the night. They got the floor moving from the first inkling of a beat's shrill thump.
Justine Mainville, on her synth keyboard and drum/cymbal kit, and Kevin Steinhauser, on his seemingly magical stay-in-tune guitar, began as if they had been charging up energy all day, waiting to let it loose all at once. The duo dripped with sweat after the first song.
With an iPod filled with programmed beats made from old gaming equipment backing them up, Math the Band immediately displayed their multifaceted style with the attitude of punk rock and the chipper feel of electro dance, leaving the audience torn between banging their head and breaking it down to the beat.
The pair made it clear they were there to perform. Justine's hair flew as she pounded on her drum kit with her right hand, used her left to flawlessly maintain the keys and smiled with a nearly-creepy-but-entirely-genuine love of her performance.
Steinhauser, in between his body's fierce convulsions to the music, let his guitar drop to the floor, looped it back over his shoulder - still in tune - and shredded it, all while maintaining his lead vocals like it was as easy as breathing.
They kept their intensity level high throughout a set featuring old and new songs alike. During "Four to Six," the front row - a mixture of nerd and punk fans - broke into an all-out dance party.
Math the Band capped off a quirky bill that included the Modrats' songs about D&D with a radio rock feel, D&D Sluggers' massacred keytar and guitar with a soulful vibe and ThoughtCriminals, who got the crowd moving with their live-band, Nintendo-inspired content and beats.
Although the crowd thinned as the night went on, it might as well have been a sold-out show for all of the energy that was expended on the dance floor by the dozens that stuck around until the last notes rang out.