2014 Funk Fest
Metrolina Expo Fairgrounds
Sept. 12-13, 2014
All weather aside, the 2014 Funk Fest held at the Metrolina Expo Fairgrounds on Sept. 12 and 13 lived up to all the hype. Sure, Friday was hot and then rain delayed and Saturday had a bit of rain of its own, but performances by Outkast and Ice Cube blew up social media before, during and after their sets.
Friday's hot afternoon got started with a set by local hip-hop collective Forever FC. From there it was a good mix of classic hip-hop by Salt-n-Pepa, a stunning-yet-shortened set by Fantasia, another classic performance by Doug E. Fresh (now I understand why he's so popular during CIAA each year), an energetic set by B.o.B and then the band everyone was waiting for.
An hour-long weather delay, and an hour-long set changeover after B.o.B did little to dampen the spirits of those in attendance as soon as Outkast hit the stage full-force with "B.O.B." While early reviews of Outkast were lack luster, recent opinion has been glowing and the Atlanta hip-hop duo lived up to all the hype with an outstanding performance that never let down.
Saturday's weather wasn't quite as warm, but things heated up with War in the afternoon. The '70s funk outfit were a solid warm-up for the early evening hip-hop 'n' soul of The Roots. Ice Cube ran through hit after hit during his hour-long set and light rain didn't slow down LL Cool J who closed out the evening with a hits-heavy set of his own.
When Funk Fest was first announced, many didn't believe that Outkast would actually make it to the Queen City for a performance, but this weekend's event left many believers wanting more.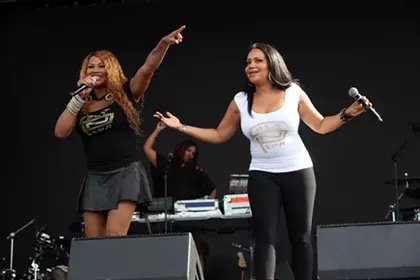 39 slides
Outkast Setlist
B.O.B.
Gasoline Dreams
ATLiens
Skew It on the Bar-B
Rosa Parks
Da Art of Storytellin', Part 1
Aquemini
SpottieOttieDopaliscious
Ms. Jackson
Kryptonite (I'm on It)
GhettoMusick
The Way You Move
She Lives in My Lap
Prototype
Hey Ya!
Hootie Hoo
Crumblin' Erb
Southernplayalisticadillacmuzik
Player's Ball
Elevators (Me & You)
Roses
So Fresh, So Clean
Int'l Player's Anthem (I Choose You)
The Whole World