Kool & The Gang, Bootsy Collins, Morris Day & The Time, Big Daddy Kane
PNC Music Pavilion
July 22, 2016


There might not have been a swarm of people filling PNC Music Pavilion on Friday night, but that didn't stop four artists from laying the funk down and bringing the grooves.
When emcee Big Daddy Kane first took the stage, the crowd was sparse and appeared uninterested. By the time Kool and the Gang walked on stage, the crowd was fired up and ready to dance the night away.
It was a format that slowly built in energy — from the opening notes of Morris Day & The Time playing a tribute to Prince to the slappin' funk of Bootsy Collins who offered plenty of P-Funk moments. After Collins, Kane offered a few songs and the fans were on their feet, primed for Kool & The Gang to bring it home and they didn't disappoint.
The lineup has changed over the years, but there were plenty of people singing along to all the hits, including "Jungle Boogie." They might have been able to put the show in a smaller venue, but those in attendance didn't notice, as the majority of people there were too busy dancing and singing along.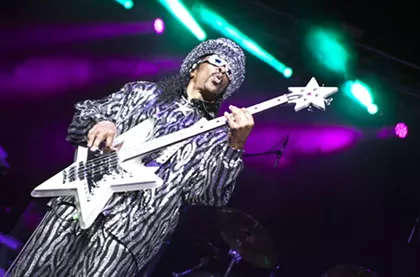 9 slides