Red Hot Chili Peppers, Babymetal, Jack Irons
Spectrum Center
April 17, 2017
The Red Hot Chili Peppers brought their legendary brand of punk rock and funk to Charlotte's Spectrum Center Monday night as part of their 2017 North American Tour. The quartet has been going strong (with a few lineup changes) since its formation in 1983 and managed to pack every seat in the arena. The RHCP have a way of bridging the generation gap, as evidenced by the wide age ranges in attendance on Monday night. There were parents introducing their 10-year olds to the band that defined their young adulthood, older folks rocking out as hard as they did in their youth and high schoolers just discovering their discography.
With half of Charlotte seemingly in attendance for the big show, there was a lot to be heard:
One of the hundreds of concert goers swarming the concessions stands in an effort to escape Babymetal, the opening band's, performance: "You guys in line for beer?...FUCK!"
A man in awe of the apparent uniform worn by a good portion of the crowd: "There's flannel everywhere…"
Older man at the concessions stand, referring to all of the tweens and teens attending the show: "It's like Disney World in here."
Two millenials in their Target RHCP gear, greeting each other across the crowd: "Bro?!" "BRO!!"
A parent as they grudgingly coughed up the dough for their child's souvenir: "$80 for a hoodie? Who do they think they are, The Beatles?"
A wide-eyed young man grabbing pizza at the concession stand "I feel like I'm in a white man's Narnia."
Man on a beer run: "Yup, that's about right…four hundred dollars for one ticket and two beers."
A mom talking about her children's induction into the RHCP tradition: "We're in the nosebleeds, but they won't care. It's their first concert."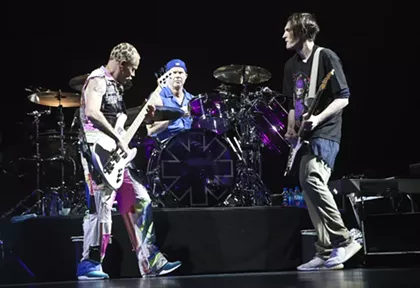 15 slides
Setlist
Can't Stop
Snow ((Hey Oh))
The Zephyr Song
Dark Necessities
She's Only 18
Me & My Friends
Go Robot
Parallel Universe
The Power of Equality
The Getaway
Higher Ground
Californication
What Is Soul?
Under the Bridge
By the Way
Encore

Goodbye Angels
Give It Away