Missio, Welshly Arms
The Underground
March 6, 2018


"That's why they call me temple priest, motherfucker!" Missio hit the stage with the chorus of the song "Temple Priest" as singer Matthew Brue, clad in a white robe, danced around the stage. From there, the band's set was one relentless ball of energy. Missio has plenty of depth with only a drummer and keyboardist, letting Brue command all the attention with the sonic boom going on behind him. I wouldn't expect Missio to play venues this small for much longer. The night got started with the raw rock 'n' soul of Cleveland's Welshly Arms - keep your ears out for more from them in the future, too.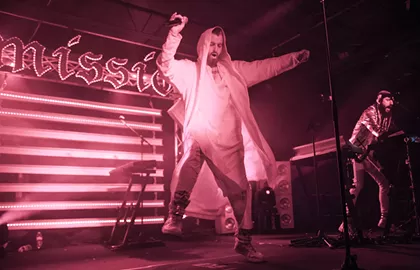 13 slides
Setlist
Temple Priest
Twisted
I Do What I Want
KDV
West Coast
I Don't Even Care About You
DWI
Bottom of the Deep Blue Sea
Animal
Everybody Gets High
Can I Exist
I Don't Give A...
Middle Fingers
Kamikazee
Encore
Black Roses