Photos
Tuesday, August 23, 2016
Posted By Jeff Hahne on
Tue, Aug 23, 2016

at

1:50 PM

Charlotte Pride f. K. Michelle, Eden XO, Vassy and more

Uptown Charlotte

Aug. 20, 2016



Tens of thousands of people swarmed downtown on Saturday, Aug. 20, 2016, for the first day of the Charlotte Pride festival. An array of sonically diverse performances took place on one end of Tryon Street as artists covering a range of genres from pop and hip-hop to rock and folk entertained the masses.

Headliner K. Michelle had the crowd singing along to her heartfelt R&B, while Eden XO and Vassy both got the crowd moving and grooving.

Local bands Lovesucker and Dust & Ashes were highlights with strong songwriting and performances.

Singer Trey Pearson shared his story of coming out with the crowd, while emcees Big Mamma D, Delighted Tobehere, Joanne Spataro and Malachi kept the audience entertained between acts.

The overwhelmingly happy mood of the day wasn't deterred by protesters, and one couple even got engaged on stage. Though HB2 has made it difficult for some venues and events to find music acts, Charlotte Pride continued to showcase a strong variety, showing that love can conquer all.
Charlotte Pride, 8/20/2016
Tuesday, August 16, 2016
Posted By Jeff Hahne on
Tue, Aug 16, 2016

at

9:55 AM

Dixie Chicks
PNC Music Pavilion
Aug. 13, 2016


In the age of social media, when you think about the comments people make about presidents and presidential candidates, it seems kind of silly that the Dixie Chicks were so harshly viewed for making the statement, "we're ashamed the President of the United States is from Texas" about then-president George W. Bush.

It's been a rocky 10 years since that statement was made — a decade that saw the Dixie Chicks playing shows here and there but hesitating to hit the road for an extended run. Singer Natalie Maines, a big fan of Howard Stern, would often appear on his Sirius XM radio show and say she felt unsure about how fans would receive them after the 2006 blacklisting by country radio.

Now, as time has passed and fans have constantly turned out for sporadic shows over the years, the Dixie Chicks are in the midst of a 40-date run during which the ladies are being welcomed back with open arms by their fan base and the Charlotte show was no different.

Fans and the band alike were all smiles throughout the more than two-hour performance that included a handful of cover songs, plenty of hits and a short tribute to Prince.


Tuesday, July 26, 2016
Posted By Jeff Hahne on
Tue, Jul 26, 2016

at

9:54 AM

Merry Jane Presents the High Road Summer Tour featuring Snoop Dogg, Wiz Khalifa, Kevin Gates, Jhene Aiko and Casey Veggies

PNC Music Pavilion

July 24, 2016



After Sunday night, a sarcastic person might bet that there's no weed left in North Carolina. An absolutely packed lawn at PNC Music Pavilion appeared as if it was on fire as smoke billowed above the sea of people. What else would you expect from a tour that features Snoop Dogg and Wiz Khalifa as its headliners?

Hip-hop's ambassadors of pot were the clear draw for the Merry Jane Presents the High Road Summer Tour, which also featured Kevin Gates, Jhene Aiko and Casey Veggies. While the first three acts came and went in straight-forward fashion, it was the primetime duo that everyone was waiting for.

With a huge blunt in hand, Snoop Dogg took the stage and performed a couple of hits before letting Wiz Khalifa do the same. It was an odd dichotomy for anyone who might be a fan of one more than the other — you could sing along and get in the groove, and then wait for a few songs and do it again. Somehow though, it worked. Khalifa brought plenty of energy and Snoop's laid back demeanor offered a good balance — no weed required.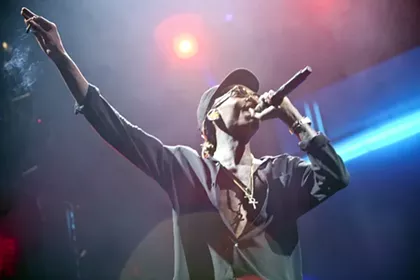 The High Road Tour, 7/24/2016
Posted By Jeff Hahne on
Tue, Jul 26, 2016

at

9:50 AM

Kool & The Gang, Bootsy Collins, Morris Day & The Time, Big Daddy Kane

PNC Music Pavilion

July 22, 2016



There might not have been a swarm of people filling PNC Music Pavilion on Friday night, but that didn't stop four artists from laying the funk down and bringing the grooves.

When emcee Big Daddy Kane first took the stage, the crowd was sparse and appeared uninterested. By the time Kool and the Gang walked on stage, the crowd was fired up and ready to dance the night away.

It was a format that slowly built in energy — from the opening notes of Morris Day & The Time playing a tribute to Prince to the slappin' funk of Bootsy Collins who offered plenty of P-Funk moments. After Collins, Kane offered a few songs and the fans were on their feet, primed for Kool & The Gang to bring it home and they didn't disappoint.

The lineup has changed over the years, but there were plenty of people singing along to all the hits, including "Jungle Boogie." They might have been able to put the show in a smaller venue, but those in attendance didn't notice, as the majority of people there were too busy dancing and singing along.
Kool and the Gang, 7/22/2016
Wednesday, June 29, 2016
Posted By Alison Angel on
Wed, Jun 29, 2016

at

3:50 PM

Twenty One Pilots, Mutemath, Chef'Special
Charlotte Metro Credit Union Amphitheatre
June 28, 2016

The Twenty One Pilots show was the hottest ticket in town on Tuesday night. For those hopefuls trying to snag an extra ticket outside of the amphitheater at Music Factory to no avail: I hate to be the bearer of bad news, but this show was definitely worth the hype.

Twenty One Pilots showed proved themselves as an epic force to be reckoned with. They are a band that has earned its newly minted big-timer status. What's funny? The group couldn't be smaller, numerically: there are only two dudes in the band. Yet those two dudes, singer Tyler Joseph and drummer Josh Dun, manage to put on a two hour show that could rock even bigger arenas.
Charlotte Metro Credit Union Amphitheatre was packed.

The crowd was an odd mixture of little kids in makeup to parents that looked just as excited to see the duo. Seats completely sold out, right down to the last blade of grass on the lawn. You really can't blame hopefuls who were pursuing scalpers months in advance and hoping to get in on the action. Twenty One Pilots tore through a 22 song set that was full of surprises, including a giant hamster ball. Yes, I said, a giant hamster ball. But we'll get to that later.

For some background, Joseph and Dun hail from Columbus, Ohio. They started the musical duo in 2009 (with a few former members). They self-released two albums before being signed by Fueled By Ramen in 2012, and their most recent release Blurryface hit number one on the Billboard 200, spawning two massive radio hits "Stressed Out" and "Ride." Now, they're going from city to city selling out shows on their aptly named "Emotional Roadshow" world tour. This whole production is a dream come to life for them and they're very open about it. That, along with some musical genius and multi-talented musicians, is why they inspire such a passionate following of fans.



Monday, June 20, 2016
Posted By Jeff Hahne on
Mon, Jun 20, 2016

at

10:10 AM

Lake Street Dive, The Lone Bellow

The Fillmore

June 17, 2016

Just over three years ago, I caught Lake Street Dive during a

sold-out show at the Evening Muse

. Since that time, the band has been back in town several times, performing for sold-out crowds at bigger venues along the way.
Monday, June 13, 2016
Posted By Jeff Hahne on
Mon, Jun 13, 2016

at

11:09 AM

Dead & Company
PNC Music Pavilion
June 10, 2016

Halfway through "Eyes of the World," to kick off the band's second set, Dead & Company hit its stride. Every member of the group — Bob Weir, Bill Kreutzmann, Mickey Hart, John Mayer, Oteil Burbridge, Jeff Chimenti — was finding his groove in the pocket and allowing the song to take flight in every dimension for more than 20 minutes.

Consider the first set a warmup for the group consisting of three members of the Grateful Dead — Weir, Hart and Kreutzmann — alongside pop-rocker John Mayer, bassist Burbridge of the Allman Brothers and keyboardist Chimenti, who has played with various related lineups in the post-Grateful Dead world.


Wednesday, June 8, 2016
Posted By Alison Angel on
Wed, Jun 8, 2016

at

12:32 AM

Selena Gomez w/ DNCE
Time Warner Cable Arena
June 7, 2016

The new generation's pop princess treated Charlotte to a 90-minute set on Tuesday night when Selena Gomez's Revival Tour rolled into town. Many fans had anxiously awaited this night partially out of anticipation, partially because of anxiety, as they weren't sure the show would go on.

With so many musical acts and shows pulling out of their Queen City stops thanks to the HB2 bill, Gomez's fans waited with bated breath until she confirmed she would still be here. "I would never disappoint you," she told the crowd at Time Warner Cable Arena with her trademark grin.


Friday, May 13, 2016
Posted By Jeff Hahne on
Fri, May 13, 2016

at

10:02 AM

Silversun Pickups, Foals, Joywave
The Fillmore
May 12, 2016

From the hour-long fury of Foals' set to the driving rock of Silversun Pickups and the solid warmup rock of Joywave, there was rarely a dull moment during Thursday night's concert, which also served as the 21st birthday party for local radio station 106.5 The End.

Foals offered 60 minutes of intense rock thunder that was relentless for the duration. Halfway through, I kept thinking, "I pity the band that has to follow these guys." While Silversun Pickups sometimes skews more mellow in radio play, the band had no problem holding its own as the headliner, finshing the one-two punch without a problem.


Monday, May 9, 2016
Posted By Jeff Hahne on
Mon, May 9, 2016

at

12:01 PM

Carolina Rebellion
Charlotte Motor Speedway, Concord
May 6-8, 2016
One of the most interesting things about Carolina Rebellion is just how much the festival has changed since it started. What began as a single-day event at Metrolina Expo Fairgrounds in 2011 has now become three days filled with metal mayhem at Charlotte Motor Speedway.

A good number of the acts return to perform on a regular basis, but festival organizers have worked to diversify it a bit, as well. I doubt anyone would have expected acts including Lynyrd Skynyrd and Collective Soul to be included on the bill when Carolina Rebellion first started.

For the festivals sixth year, fans were treated to a wide range of performers as well as fantastic weather and a handful of standout moments. Among the more memorable: