click to enlarge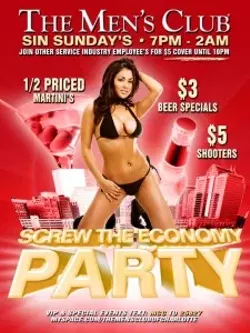 Now that the lame Pro Bowl is over, it's going to be August before we see a decent football game. And if you have Time Warner Cable, you can't even watch The NFL Network.
So, what is a football lover to do?
Well, it's the Men's Club to the rescue.
General manager Brad Fuller sent a letter to Creative Loafing and here are the highlights:
February. F**king February! The worst month of the year. It's cold. It's dark. Football season is over and Hallmark forces us to pass chocolate and roses in hopes of a touchdown.

To help all of get through it, I've come up with some tasty events at The Men's Club of Charlotte.

Starting Sunday, February 8: SIN Night's "Screw the Economy" party: 7 p.m. until not only is the economy screwed.

$5 cover until 10 p.m. plus $3 Bud Light and 1/2 priced martini's and $5 shooters.

Actually, I am a bit of a romantic; when it comes to my Panthers! But my girl says that having her wear a jersey, high-heels and playing "pile on" doesn't count as romance. . .Saturday, February 14th have a ménage a trois or a ménage a quad. Nothing says romance like excess and experimentation. Couples get in free until 10 p.m. and will party hard(y) on 1/2 priced martini's in the Sky Lounge and tit-alate their palates with a free buffet from 8 p.m. to 10 p.m.
Also at the Men's Club this month:
• The Bartender's Ball after party on Feb. 15. You get in free with your Bartender's Ball ticket. And if you're not drunk enough, you can get $3 Bud Light, $5 shooters. At 12 a.m. there will be a $10 breakfast buffet.
Brad says: "No need to stop at Jack for burgers and fries when you can satisfy your munchies with quality food in a comfortable chair watching hot topless girls show off their skills."
• Wild Things Jungle Party: Feb. 20th. "Whether you come as Tarzan or Jane, or wear leopard skin or bear skin, join our lioness as they ravage their pray in the most exciting and untamed ways."
With all of this, I'm sure the football deprived will find something else to think about--at least through the month of February.
Visit the Men's Club on line at: www.mensclub.com