I came to work today.
And I mean it just as it sounds.
click to enlarge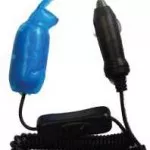 I was given a Rabbit Travel Vibe as a gift. The package says that it is "the world's most powerful rabbit vibrator." Guess what, this claim is right.
Here's how the travel vibe works: You plug it into your cigarette lighter or electrical outlet in your car — then slip the rabbit in your pants and turn it on. This 12-volt-power vibrator will have you driving through Charlotte traffic with a smile on your face. Due to the power of this toy, I'd suggest using it during light traffic patterns until you get used to feeling. You're going to come. And you're going to come hard.
I was halfway out of the parking lot before I had orgasm No. 1.
I can't wait to take this on the highway!