Be Merry
50 Go clubbing at the Spot on Pecan Avenue some Saturday night and gaze wistfully at the almost urban skyline view you spy from upstairs.
51 Bestir yourself to attend a gig at Amos' SouthEnd, Tempo or any of the smaller venues and wait in befuddlement, wondering why shows start so damn late in a town where most households are long since tucked in bed by 10pm.
52 If you're really bored on a Saturday night, don blackface, bling and baggy jeans, and try to dodge cops uptown along Tryon Street.
53 Go to a downtown bar or club before it closes down. We could run a list of the RIP establishments, but we don't have the space.
54 Hang around downtown after a Carolina Panthers victory and watch all the male fans puff out their prideful chests to the extent that it looks like their shirts will rip open, Incredible Hulk-style.
click to enlarge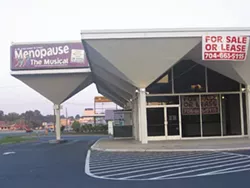 55 Become a frequent guest at International House on Hawthorne Lane. Practice language skills and meet people from different cultures.
56 Search (again) for your stolen car.
57 Visit Paper Skyscraper. The East Boulevard gift store has everything you don't need, but you'll giggle.
58 Attempt to start a riot downtown, and then tell TV news reporters your gang made you do it.
59 Drive to Reed Gold Mine and wax nostalgic about the gold rush of 1803.
60 Catch a showing of Menopause: The Musical at the Capri Theatre on Independence Boulevard. The sign's been advertising this show for a very, very long time now, so it must be worth seeing.
61 Shag dance at Boppers; learn the regional shimmy, cousin of swing. While boppers could be renamed boomers, the shag isn't only for the aged. When former Miss USA Chelsea Cooley was still a Charlottean, the beauty queen shagged up a storm.
62 Reside in Uptown's 3rd & 4th Wards and enjoy being sleep-deprived by the mystery trains a-rollin' down the tracks all night long.
63 Satisfy your foot fetish at Foot Fetish, get your watch fixed at Quick Fix or take jazzercise classes at Eastland Mall.
click to enlarge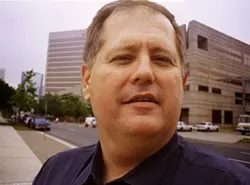 64 Try out for American Idol. Why so many Tarheels? Could it be a metaphor for the Queen City -- glitzy façade lacking substance underneath?
65 Discover all the prime make-out areas in Discovery Place.
66 On a dry day, spin wheelies in your car on the Hawfield Road entrance to the new white water park.
67 Max out credit cards at Neiman Marcus to spend more on clothing than you did on last month's rent.
68 Wrap your head in a turban and attempt to photograph buildings downtown. See how many you can snap before a police officer tackles you.
69 Ponder why no Republican will run in a primary against Mecklenburg County Commissioner Bill James.
70 Have lunch around the water fountains on College Street.
99 things to do*